---
Driving down Cotta Road, one would fail to see the once familiar landmark of Treasure House. The building is no more. It has been completely demolished. What greets the eye is a tall wall, covering construction work behind it. The piling work on 'Treasure Trove Residencies', another project of Home Lands Skyline has commenced.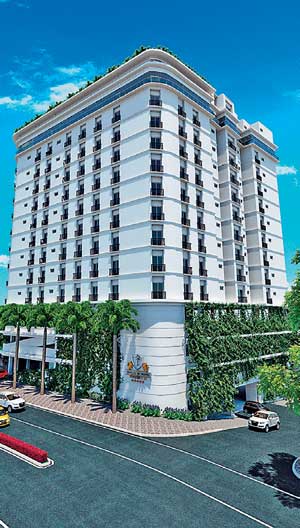 "The company has a great task ahead with a big responsibility. Seventy four of the 77 residencies have already been sold. Working on schedule is of paramount importance to our company," was the statement to the media by the company spokesperson displaying the commitment of the company to complete the work according to the schedule.
The work is carried out speedily but coupled with caution where engineers at site are engaged in supervising the work to ensure that it is done according to stringent quality standards.
The piling work at Treasure Trove Residencies commenced on July 7 after performing the traditional, rituals and religious ceremonies at the site. D.P. Jayasinghe, a renowned and well respected construction company with great track record in the industry, has been awarded the piling work.
Hundred percent of the apartments were sold, even before the commencement of piling work, due to the trust Homelands Skyline has built over the years through its performance and ability to deliver its promises. The company believes in keeping its customers and the public aware of every step of its property
development projects.
"As a property developer we are accountable not only to our customers but also to the community at large, as we are in the business of transforming the landscape, properties and estates of Sri Lanka," the company spokesperson added.