---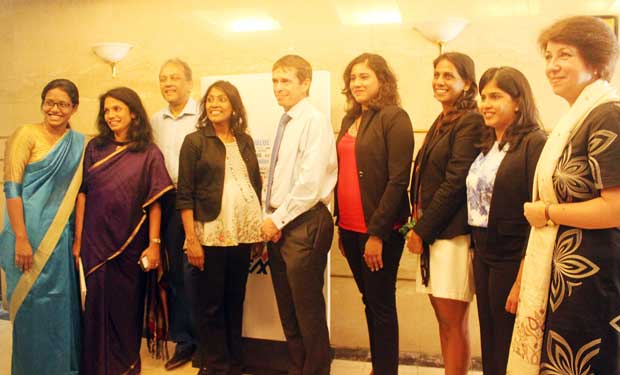 From left: Good Neighbours International Programme Manager Abiramy Sivalognanthan, Hemas Holdings Head of Group Sustainability and Corporate Communications Shiromi Masakorala, Hemas Holdings Group Director Abbas Esufally, AUW Bangladesh Senior Advisor Krishanti Vignarajah, Hemas Holdings Group CEO Steven Enderby, AUW Alumna Kaushalya Ariyathilaka, AUW Country Representative Chanchala Gunewardena, Hemas Holdings Head of HR Upulka Samarakoon Munasinha and AUW Faculty Dean Dr. Rosie Bateson

From left: AUW Senior Advisor Krishanti Vignarajah, AUW Faculty Dean Dr. Rosie Bateson, AUW Alumna and Good Neighbours International Programme Manager Abiramy Sivalognanthan and AUW Alumna Kaushalya Ariyathilaka
Hemas Holdings PLC hosted a forum on Women's Educational Empowerment and Economic Opportunity yesterday with a keynote delivered by Krishanti Vignarajah, the Sri Lankan-American Senior Advisor to the Asian University for Women (AUW), Bangladesh – a regional university supporting women's empowerment – and former Policy Director to the Office of First Lady Michelle Obama.
The forum, held at Hemas House on Braybrooke Place, was attended by over a 100 invitees including women leaders from across Hemas' four business sectors (FMCG, healthcare, transportation and leisure), Hemas Board leadership and women leaders from other corporate and the non-profit organisations.
The event was in line with the recent launch of Hemas Women's Network – an initiative to further its commitment to its over 30 percent female staff members - helping them in building intra-company support systems and networks and providing resources for professional growth opportunities and receiving mentorship. They partnered with (Bates) Strategic Alliance PR, with its own team of 50 percent women including COO, CFO and Strategy Lead, for PR support.
Vignarajah spoke from her wealth of experience on the topic – at First Lady Michelle Obama's Office, Vignarajah spearheaded the Let Girls Learn initiative focused on secondary education support in the US and in her new role with AUW, she is advocating for the promotion of tertiary education and leadership development among women of the region.
AUW is currently home to 600 young women from 16 countries. Fifty three Sri Lankans have graduated and 10 attend. Sri Lankan graduates include a University of Oxford master's graduate and valued staff members at organisations including UNDP/UNV, World Vision, Good Neighbours International, American Corner Kandy and Jaffna, Centre for Poverty Analysis, Asiri Group, Centre for Environmental Justice, Women's Action Network and others. With such early signs of success AUW is hoping to increase recruitment from Sri Lanka in the coming years and was excited to announce the recent on-boarding of former President Chandrika Bandaranaike Kumaratunga as an ambassadorial member of eminent its international Council of Patrons.
The event was opened by Hemas Group Chief Executive Officer Steven Enderby, who reiterated Hemas as a company dedicated to creating an inclusive environment through engaging in dialogues such as this. Participating on the panel alongside Vinarajah were AUW Faculty Dean Dr. Rosie Bateson, AUW alumna Kaushalya Ariyathilaka ('13) who recently graduated with a Master's from the University of Trento, Italy, and was an exchange student at Stanford University while at AUW, and Abiramy Sivalognanthan ('14) - Programme Manager for Good Neighbours International and Masters in Human Rights student at the University of Colombo.
AUW Country Representative, Chanchala Gunewardena was also at hand to support.