---
Hayleys Kelani Valley Plantations' Senior Manager- HR & Corporate Sustainability, Anuruddha Thiththagalla Gamage was ranked among the '100 Most Influential Global HR Professionals' at the Global HR Excellence Awards 2017, in recognition of his contributions in spearheading the company's pioneering HRM strategy and uplifting the company recognition at national and global
level competitions.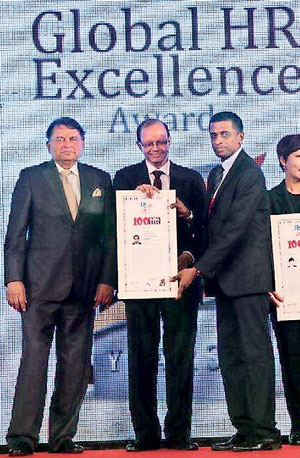 The Hayleys plantation sector was selected as winners of the Award for Leading HR Practices in Quality Work-Life at the awards.
Taking place at the culmination of this year's World HRD Congress - the HRM professionals most prestigious calendar event - the award ceremony took place at the Taj Lands End, drawing participation from over 700 leading corporates from 133 countries including respected luminaries in the field of HRM.
The award was presented to Anuruddha Gamage in recognition of his groundbreaking efforts to successfully extend comprehensive human resource management initiatives in keeping with the direct strategic vision and guidance of Hayleys Plantations sector's Managing Director, Roshan Rajadurai. Following a comprehensive evaluation of his personal profile and achievements and a case study developed after careful analysis of Sri Lanka's challenging Plantation HRM model and the innovative HRM best practices formulated at the Company. During his tenure in charge of HR and Corporate Sustainability at Hayleys Plantations, Gamage has overseen a breakthrough HR development drive rolled out across a series of bold initiatives aimed at resolve long-standing challenges within the industry by sincerely addressing the Human Resource Management issues that lay at the root of the industry's current difficulties.
Through concerted efforts to improve the social and economic standards of its 19,000 direct workforce and its 110,000 strong extended plantation community, Hayleys Plantations has worked to ensure that these communities are given a meaningful stake in the profitability of its plantation sector. The company has made HR initiatives the lynchpin of its strategy for raising productivity and quality of most valuable resource, i.e.
Human Resource.
During Gamage's tenure and under the guidance of Hayleys Plantations Managing Director, Roshan Rajadurai, Hayleys Plantations has secured a series of awards in recognition of its HRM initiatives most recently securing Gold and Silver Awards at the National Business Excellence Awards 2016 organized by National Chamber of Commerce of Sri Lanka, a Gold Award at the National HR Excellence Awards 2016 conducted by IPM, Sri Lanka, in addition to further Gold Awards at Japan Sri Lanka Technical and Cultural Association (JASTECA) CSR Award, and the winner of Asia-Pacific HR Awards.
Possessing a wealth of academic knowledge and many years of professional experience working in the Plantation sector, Anuruddha Gamage is an alumnus of the faculty of Agriculture, University of Peradeniya, Sri Lanka where he was in the country's one of the very first batch of Plantation Management Trainees, Graduating with a B.Sc. (Agri.) honors degree with second class upper. He has since specialized in Human Resource Management (HRM), completing an MBA from the Faculty of Graduate Studies, at the University of Sri Jayawardenapura and is currently reading for a PhD in Plantation HRM. Additionally, he also serves as an active member of the Hayleys debating team, having participated in several national-level debates. Gamage is a certified trainer under Hayleys TOT programme and is currently serving as the Vice-President of Hayleys
Toastmasters Club.