---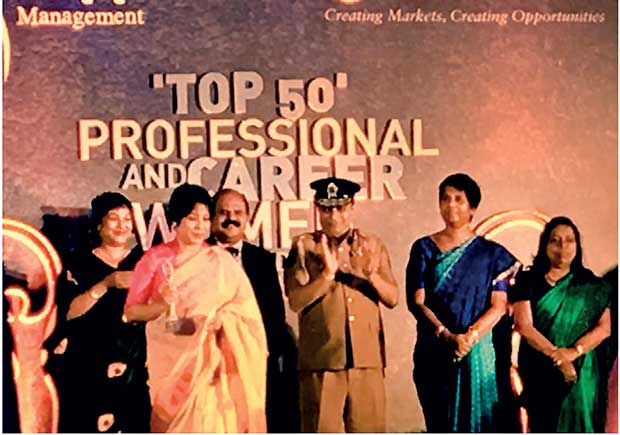 Hayleys PLC Group Head of HR, Legal, Security and Corporate Communications and Sustainability Darshi Talpahewa accepts the Gold award in Leadership Excellence Career Achievement at Top 50 Professional & Career Women Awards 2017
At a glittering ceremony held recently, hosted by Women in Management (WIM) and IFC, part of the World Bank Group, Hayleys PLC Group Head of HR, Legal, Security, Corporate Communications and Sustainability Darshi Talpahewa received the Gold award in Career Achievement for her leadership and mentorship and the role in the extensive portfolio of responsibilities within the Hayleys PLC group.

Talpahewa has proven responsibility for many transformations and innovations in the diverse areas under her purview, within the Hayley's group.

Talpahewa joined the Hayleys group in January 2010 and was appointed to the Group Management Committee in November 2015. A lawyer by profession, she obtained her LL.B from the University of Colombo and passed the final examinations in attorneys-at-law with a First Class Honours from the Sri Lanka
Law College.

She holds a Master's in International Relations and a Master's in Law from the University of Colombo. She is currently reading for her Master's in Human Resource Management from the University of Northampton UK.

During her illustrious career she has had the unique opportunity of working with the government and also in non-governmental, private/corporate sectors including the banking sector and academia.
"I am honoured to receive this award. Hayleys is an equal opportunity workplace and strongly believes in empowering the female workforce, encouraging career progression and growth, based on performance and commitment. Many leadership roles within the various sectors of the organisation are being held by strong and influential women and in receiving this, I am actually representing my colleagues," said Talpahewa.

Launched in March 2011 by WIM, the Professional & Career Women Awards celebrates the achievements of remarkable women who inspire those around them - either through the media, through their astounding achievements in their careers, businesses and everyday lives. The annual event is an uplifting and emotional award ceremony where women are celebrated equally in
one room.