---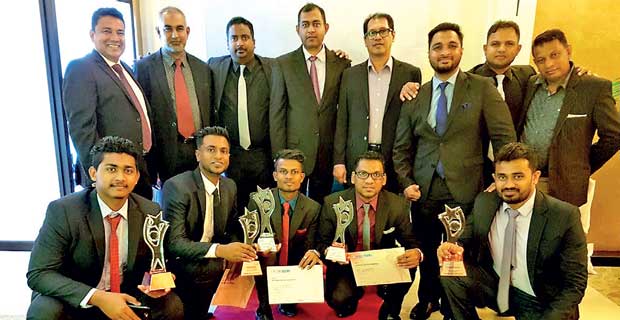 Standing-From left: Retail Sales Manager Mohamed Rameez, HS Marketing National Sales Assistant Manager M. Shiham, HS Marketing General Manager Indika Perera, Group General Manager Chinthaka Wanigasekara, Retail Head Jamshid Sourjah, Human Capacity Development Manager Mohamed Hana Saleemdeen, Area Manager M.H.M. Ashkar and Area Manager G.R. Shantha. Seated-From left: Mohamed Rafan, Nadarajah Sudarshan, Sanjeewa Ranasinghe, Wimalasena and Shalika Prageeth
The team from Hameedia, Sri Lanka's leading menswear specialist, won multiple awards at the Sri Lanka Institute of Marketing (SLIM) National Sales Congress 2017.

The Hameedia team walked away from the SLIM-NASCO 2017 Awards with a silver and four bronze medals in three specialized categories, and dominated the modern retail sector with wins in each of the three categories within the sector.

SLIM-NASCO 2017 is a premier marketing industry event where sales professionals are recognised for their contribution to their companies as well as to the development of their specialized industries and sectors. The Hameedia team has been on a winning streak at the NASCO awards, and the 2017 awards was the third consecutive year in which the team won prominent awards and gained noteworthy attention for their achievements in sales and customer service. "We are delighted to see the Hameedia team winning yet again at the NASCO awards," says Hameedia Group Managing Director Fouzul Hameed. "It is a recognition of the commitment and professionalism we give to our customers, in serving them and meeting their needs. Our sales team is not merely focused on sales targets and bottom-lines but in ensuring that our customers have a meaningful experience, and their aspirations are met. I think this focus on the customer is what makes our sales approach so effective."

The Hameedia team winners were: Sanjeewa Ranasinghe, Tailoring Associate who won a Silver and Fazul haq Mohamed Rafan, Sales Association who won a bronze award in the Frontliner category; Wimalasena, Assistant Showroom Manager who won a Bronze in the Sales Executive/Supervisor category; and K.D.S Prageeth Premarathne, Assistant Manager – Field Sales and Nadarajah Sudarshan, Showroom Manager who each won a Bronze award in the Territory Manager category.
The NASCO 2017 awards, held for the seventh consecutive year, was judged by a panel of 32 industry experts and specialists, through an arduous selection process conducted over four weekends.