---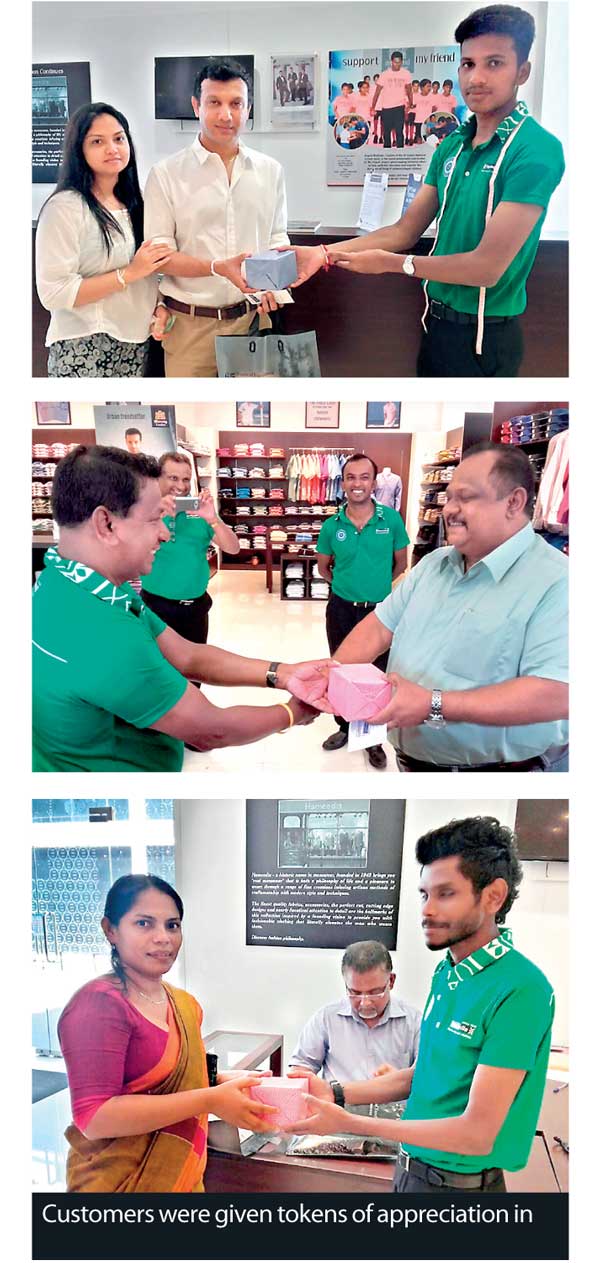 Sri Lanka's leading menswear specialist, Hameedia, recently celebrated the first anniversary of its Kiribathgoda branch in the presence of the senior management and other dignitaries.
From the day of its inception, the Kiribathgoda branch has not hesitated to establish itself as the preferred clothing retailer for men, surpassing many clothing boutiques, in the region. Spread over 4,000 square feet, the showroom serves many customers on a daily basis, equipping them with the right tools to look and feel their best. With brands such as Le Bond, Envoy, FHand Adidas, to name a few, it comes as no surprise that Hameedia offers customers nothing but absolute value for money, thus turning many first time customers into loyal clients.

The Kiribathgoda branch, together with the rest of the Hameedia branch network, aims to transform the way men groom themselves, be it for a special occasion, casual outing, sporting event or work. Hameedia has proven itself to be dedicated to offering only original and world-class menswear and the Kiribathgoda branch only adds to the 'sixty seven plus years' tradition and quality that the brand has become synonymous with.

Hameedia Group Managing Director Fouzul Hameed said, "It only seems like yesterday that we opened our branch in Kiribathgoda. Within such a short span, our team has done a fantastic job in cementing our place in the hearts of shoppers in Kiribathgoda, allowing us to stand apart from the many clothing retailers in the area. I would like to thank the customers of Kiribathgoda area for patronizing our brand and I wish the team all the very best in continuing the successful trend for many more years to come."
Udeshi City Shopping Complex Chairman M.G. Perera, who was present at the anniversary celebration, commented, "Hameedia has been a true value addition to our shopping complex. Yes, there are many clothing retailers in Kiribathgoda, but very few can compare to the quality and style that Hameedia offers and none can claim the title of 'premier clothing stylist for men'. It is a sense of pride for us that Hameedia is part of our shopping complex and I wish them all success in the years to come."

Hameedia Kiribathgoda is located at
No. 94, Udeshi City Shopping Complex, Makola Road, Kiribathgoda.
From its inception back in 1949, Hameedia has cemented its place as the preferred menswear specialist with its world-class quality, custom tailoring and ready-made clothing. The company continues to make its presence felt locally and internationally with 30 outlets across
Sri Lanka and stores in the Maldives and
Australia respectively.