---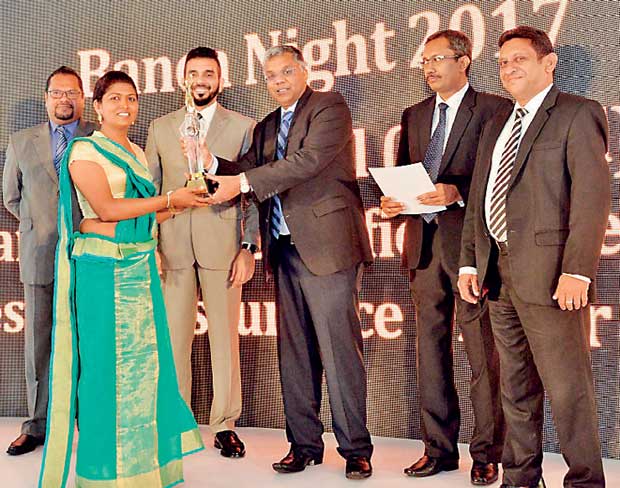 From left: Madawa Gunaratna - Senior Manager, Partnerships of HNBA, Kalum Wijesooriya - Assistant General Manager Deposits and Remittances and Chief Employee Experience Officer of Hatton National Bank PLC (HNB), Deepthi Lokuarachchi - Chief Executive Officer of HNBA and HNBGI, Prasantha Fernando - Chief Operating Officer HNBA, Ivan Nicholas - Chief Business Officer HNBA and the Best Bancassurance Officer
HNB Assurance PLC (HNBA), held its annual Banca Night to felicitate the finest achievers of the bancassurance channel over the gone year.
This day of celebration was graced by the presence of the Chief Executive Office of HNBA and its fully owned subsidiary HNB General Insurance Limited (HNBGI), Deepthi Lokuarachchi and many other distinguished guests.
Deepthi Lokuarachchi, Chief Executive Officer of HNBA and HNBGI thanked the bancassurance team led by Madawa Gunaratna, Senior Manager, Partnerships of HNBA for the immense contribution towards the growth and development of the business. Sharing views on this special occasion, Lokuarachchi stated "the bancassurance spectrum is a vital business channel with an impact on the growth of the business. The dedication and commitment of our banccassurance force has played a significant role in achieving the business targets and has helped the business to grow in a highly competitive landscape by capitalizing on their core competencies and expertise. Sharing views on this occasion, Assistant General Manager Deposits and Remittances & Chief Employee Experience Officer of Hatton National Bank PLC (HNB), Kalum Wijesooriya stated, "HNB is extremely pleased on the outcome of the Bancassurance Channel and how synergies within the Group helps in seizing opportunities in fast-growing financial markets".
Accordingly, M. M. Sanjeewani attached to the Mahiyanganaya branch was awarded with the Best Junior Executive Award and J. M. L. S. Jayasundara of the Thambuttegama branch won the accolade for the Best Bancassurance Officer.
HNB Assurance PLC (HNBA) is one of the fastest growing Insurance Companies in Sri Lanka with a network of 56 branches.