---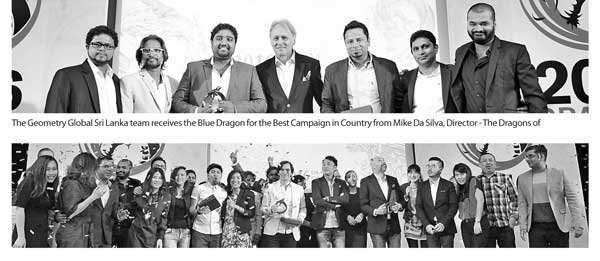 Geometry Global Sri Lanka received high honours at the recent PMAA Dragons of Asia held in Kuala Lampur, Malaysia, walking away with three awards including a Blue Dragon for the Best Campaign in Country.

A pioneer in integrated communications in the country, Geometry Global Sri Lanka received the coveted Blue Dragon, as well as a Black Dragon, for its campaign for the launch of the Audi Q7, which conducted the world's first personalized SUV launch inside the SUV.

The agency further received a Black Dragon for its 'Call to Donate' campaign for Sri Lanka Insurance, where everyone in the country was given the opportunity to make a donation to the National Cancer Hospital with a simple missed call.

"The simpler the idea, the greater the impact," said Nathasoruban Sivapatham, the Executive Creative Director of Geometry Global Sri Lanka. "That was the starting point for both these award winning ideas, and how we at Geometry Global ensure that we are creating campaigns that are effective and add true value to the brands we work with."

The accolades for Geometry Global Sri Lanka was part of an impressive haul for the network's offices around the Asia-Pacific region, making Geometry Global the most awarded network at this year's PMAA Dragons of Asia by far.

"Our vision is clear," said Dani Comar, Executive Creative Director - Asia Pacific, Geometry Global. "As an agency, we generate ideas that change behaviour. We call these ideas 'pivotal ideas' because they tip people over from thinking or feeling, into action. We study human and shopper behaviour and apply those learnings systematically across the region. There are many beautiful ideas, but very few have the power to change human behaviour, these are the ideas we focus on to get results for our clients."