---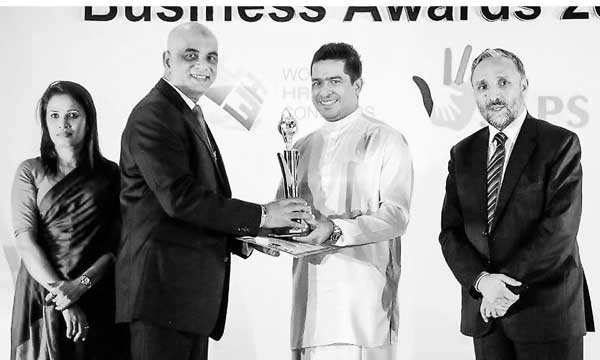 Ameer Ahamed CEO, Sri Lanka & Maldives for Franklin Covey, South Asia, was conferred with 'The Outstanding Corporate Trainer – Leadership Award' and Franklin Covey Sri Lanka & Maldives - Dynamix International Consultancy Pvt Ltd was awarded the 'The Best Learning Solutions Provider' achieving a perfect double by winning these two outstanding awards at the recently concluded South Asian Partnership Summit & Business Awards 2016 (SAPS) of the world HRD Congress endorsed by the Asian Confederation of Business.

South Asian Business Awards honour and celebrate leaders around the region working to strengthen and increase economic opportunity. The goal of SAPS is to provide a forum to establish the standards of excellence for quality development and to honour the people and organisations responsible for developing the most effective actions that exemplify that excellence.

The Jury for this Awards programme comprised of respected business leaders, researchers and academics of the stature of Dr. Arun Arora, Ex President and CEO, The Economic Times; Chairman, Edvance Pre-schools Pvt. Ltd. & Emeritus Chairman - World HRD Congress, Dr. Harish Mehta, Chairman & Managing Director - Onward Technologies Ltd.; Emeritus Chairman - World HRD Congress & Founder Member – NASSCOM, Jack Jones, Global Chairman, World HRD Congress, Prof. Indira Parikh, Ex Dean of IIM Ahmedabad & President – Antardisha (Directions from Within), Dr. R L Bhatia, Founder, World CSR Day and World Sustainability and Nina E. Woodard, President & Chief "N" Sights Officer , Nina E. Woodard & Associates, a division of NDPendence, Inc.
The nominees for these prestigious awards were drawn from all over South Asia [India, Sri Lanka, Bangladesh, Pakistan, Afghanistan, Bhutan, Nepal & Maldives].
Ameer Ahamed has been associating with Franklin Covey South Asia since the inception of the formation of the Franklin Covey Company in South Asia in 2003. Since then he has been an integral part of Franklin Covey South Asia. Franklin Covey as a company is global, and the largest Training & Development Company in the world, present in 160 countries, and listed in the New York Stock Exchange.

Franklin Covey Global specializes in performance improvement and helps organizations and individuals achieve results that require a change in human behavior. Franklin Covey's expertise is in seven areas: leadership, execution, productivity, trust, sales performance, customer loyalty and education. Franklin Covey clients have included 90 percent of the Fortune 100, more than 75 percent of the Fortune 500, thousands of small and mid-sized businesses, as well as numerous government entities and educational institutions.

In 1984, the first Franklin Day Planner was produced, followed by a popular time management workshop. New designs and formats are created continually, and the FranklinCovey Planning System is now used by more than 15 million people worldwide.
In 1989, The 7 Habits of Highly Effective People by Stephen R. Covey was published, and training and consulting based on its concepts were developed. The book has become one of the top-selling business books of all time. Franklin Quest and Covey Leadership Center announced their intent to merge January 22, 1997. The new company, FranklinCovey, was finalized on May 30 of that year.
"We are indeed honoured and humbled as a company providing the best learning solutions provider in the whole of South Asia mainly due to the continues development of the content for the last 3 decades," said Ameer Ahamed who is a Master Trainer for all Training solutions offered by the company in the South Asian region.

He also won the prestigious Award for 'The outstanding Corporate Trainer – Leadership Award'. He has been in the training and development domain and counts years of experience in all south Asian countries and some outside as well. His clients include most of the MNC's, large and medium size organizations in the region.