---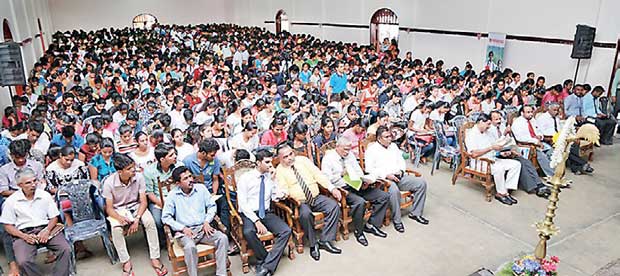 With a continuous drive and increasing passion towards enhancing knowledge amongst students about what's next after school, Fashion Bug, one of Sri Lanka's leading retail clothing chains with over 16 outlets island-wide, held their signature career guidance programmes at Tangalle and Kurunegala- Maliyadewa Boys School drawing a participation of over 3,000 and 400 students respectively.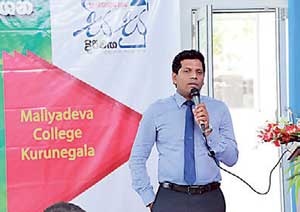 The Sisu Diri Maga programme aimed for students who recently took up the GCE Advanced Level examination featured key resource personnel such as Ajith Jayawardena - Director, Career Guidance and Development from the University of Colombo who has always been with the programme since its inception.
The event at Tangalle further consisted of two- one in Town Hall and the other at Hambantota- Singapore Auditorium, in collaboration with Minister of Fisheries and Aquatic Resources Development Mahinda Amaraweera, was heldunder the theme 'Amaraviru Piyamaga'. Aqeill Subian- Director, Dr. S H Faraaz- Deputy General Manager, S.M. Faham - Asst Marketing Manager, Omen Athukorala- HR Manager represented Fashion Bug.
"We are excited to have taken our iconic CSR programme to Tangalle and Kurunegala areas. We believe that every student needs to have access to this at no cost. We feel obliged to well prepare students to make their best next life decision to either work in the corporate sector or pursue higher education. We hope to see many more of them as we bring the programme to many parts of the country,"said Shabier Subian- Director, Fashion Bug and Founder of the Sisu DiriMaga foundation.
A.C.A. Anver- Assistant General Manager, Dinesh Ekanayake - Operation Manager, Ishan Godamanna- Snr Marketing Executive, Faishard Mohamed- Area Manager participated at the event held at Kurunegala-based Maliyadewa Boys School, on behalf of the company.
Sisu Dirimaga, an award winning CSR program by Fashion Bug, has successfully benefitted over 16,000 students as of today, and continues all the way till it achieves its goal of spreading amongst 120 schools and over 100,000 students across the country, said Dr. S H M Faraaz, Deputy General Manager- Fashion Bug.
Fashion Bug spends in millions annually on various CSR projects that are carried out throughout the country, ranging from sports and education through to health, public services and beyond. Most recently it constructed and donated a building unit for a junior school in the rural, initiated environmental awareness programs, refurbished post offices and hospitals amongst many others.