---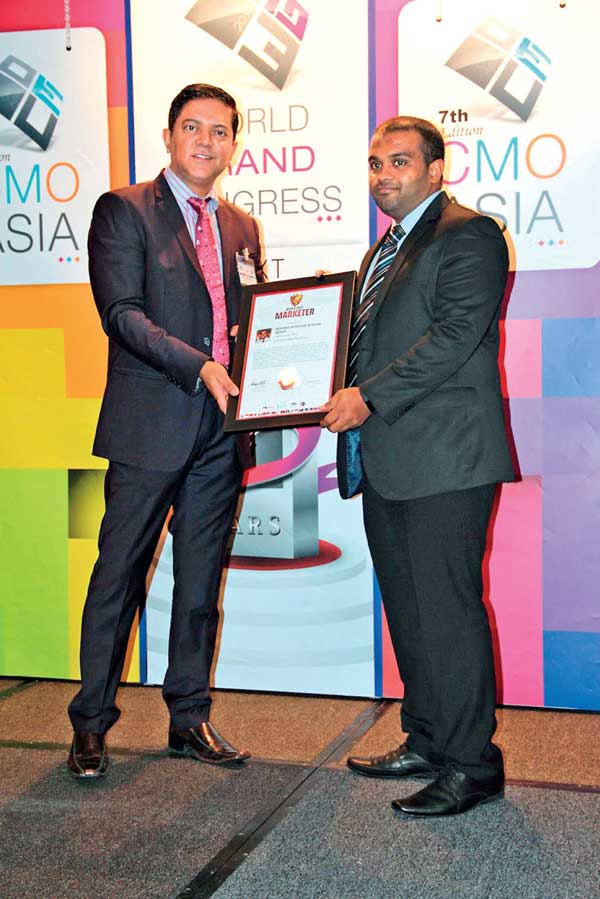 Ewis Mubarak Sadhar (right) receiving Asia's Best Marketer Award
Mubarak Sadhar, Chief Marketing Officer at E-W Information Systems Limited (EWIS) was awarded Asia's Best Marketer at the 7th CMO Asia & World Brand Congress Awards held at Pan Pacific, Singapore recently.

CMO Asia is a regional peer power affinity network of marketing decision makers with a global community of over 17000 executives.

According to a statement by CMO Asia, Sadhar was recognized for his talents amongst regional counterparts and industry peers. Selection criteria comprised strategic perspective, future orientation, track record, compliance, integrity and ethics, the ability to foster sustainability and marketing competencies. The Jury comprised of senior leaders, researchers and
prominent academia.

Sanjeewa Wickremanayake, Chairman of EWIS said, "We are extremely proud of Mubarak and his commitment to our company. He is the youngest CMO ever to receive this prestigious award which is a reflection of the vibrancy and talent of our company."

For the past 30-years, EWIS has made a mark in the local ICT industry as a company with a strong focus on the best homegrown devices with the most reliable after-sales service. One of its strongest marketing strategies is giving each and every customer a unique one-to-one offer on any products within its warranty period, which has helped secure a loyal and dedicated customer base. The company also takes pride in a workforce of young and vibrant individuals who bring a sense of change and exchange of ideas to the company's technological endeavours.

Sadhar started working at EWIS from the beginning of this year and has since taken over the operations of its smart devices subsidiary OCTA as well. Prior to that, he worked in senior positions at multiple local and global organizations.

The EWIS Group is a 30-year old organization providing products, services and solutions in diversified sectors including education, banking financial and insurance, public sector, telecommunications, utilities, healthcare and retail and manufacturing.