---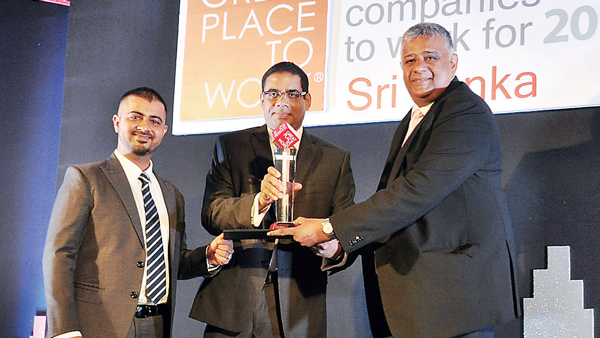 (L-R) Saif Yusoof – MD, Classic Travel and Suresh Mendis – CEO , Classic Travel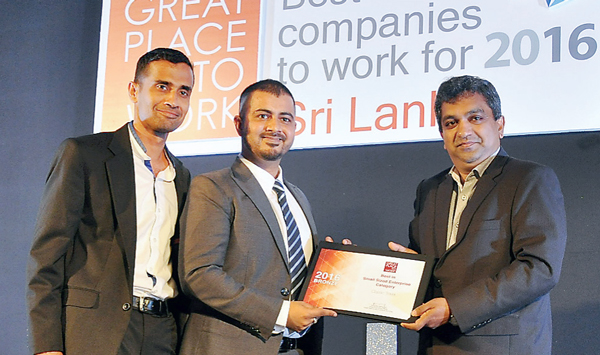 (L-R) Sabry Bahuadeen – General Manger, Classic Travel and Saif Yusoof – MD, Classic Travel receiving the award.
Expo Freight (EFL) and Classic Travel two flagship companies of Expolanka Group was rated among the top 25 companies at the Great Place to Work for Sri Lanka awards 2016 held at the Cinnamon Grand Hotel.

In addition Classic Travel was also awarded Best in Small Size Enterprise Broze award. In 2014 at the same awards Classic Travel was placed on the top 15 list and won a special award in the Work-Life balance category.

Great Place to Work Institute in Sri Lanka has conducted a study of great workplaces, in partnership with LMD and the Ceylon Chamber of Commerce. Over 50 companies representing 13 sectors and 30,000 employees participated in the study this year.

Great Place to Work Institute is a global human resources consulting, research and trainingfirmspecializing in organizational trust. Sri Lanka is one of more than 45 other countries that are a part of the institute's global research on great workplaces.The Great Place to Work for study conducted in Sri Lanka is based on the same model and methodology that is followed around the world, including the Americas and Europe.

Saif Yusoof, MD – Expo Freight said "Diversity and inclusivity of the workforce is indeed vital. We want each and every one to be unique, much like the five fingers. EFL has a presence in 20 countries and individuals from over 25 nationalities. At the same time, our clients are global and bring with them their own diversity. For us, race, creed or caste doesn't matter; we are one world".

Commenting on the award Jagath Pathirane, CEO –Expo Freight said, "wetreat and regardour people as our most valuable asset and this award is a testament to that. In 2015 we opened the EFL Campus, a state of the art office premises equipped with world class facilities and standards creating a great physical work environment. In addition,we extensively empower our people to come out with their own ideas and lead and manage their work independently with least supervision. We also strive to instill some fun at work with numerous activities and events taking place during the year including sports activities, outings and parties.In effect whilst we work hard we desire to play hard too.This I believe has led to great level of employee engagement at EFL."

Expo Freight (EFL) is a leading freight forwarder in the region and has established itself as a premier provider of services for the fashion industry. As one of the largest freight forwarders in the Asian sub-continent and the sub-Saharan region of Africa, providing integrated, supply chain management of logistics services, EFL caters to a global customer base. EFL operates in 59 cities in 20 countries in Africa, the Middle East, Asia and the USA. Commenting on the award Suresh Mendis, CEO - Classic Travel said, "this award is a tribute to our people centric approach to business. Our customer focused approach has earned us a unique place in the industry and our own employees are just as important to us. They are the backbone of the company and as a major player in the service industry, we depend on them to maintain our excellent standards."

Whilst being strategically located in the heart of Colombo with branches in World Trade Centre, Hambantota, Galle, Ratnapura, Katunayake, Bangladesh and also in the Maldives, Classic Travel is the only travel agent in Sri Lanka to be open 24 hours, 365 days of the year. Travellers can call or walk in anytime to obtain flight information, purchase air tickets, book hotels or even just to discuss their future holiday travel plans.

Business leaders — and researchers — rely on Great Place to Work® metrics to establish the standard that defines a great workplace. Great Place to Work's annual research is based on data representing more than 10 million employees in 50 countries representing about 6,000 organisations of varying sizes, industries, maturity and structures. Great workplaces are built through the day-to-day relationships that employees experience.

The key factor in common in these relationships is trust. From the Employee's perspective, a great workplace is one where they trust the people they work for, Have pride in what they do and enjoy the people they work with.

From the Manager's perspective, a great workplace is one where they achieve organisational objectives with employees who give their personal best and work together as a team/family in an environment of trust.