---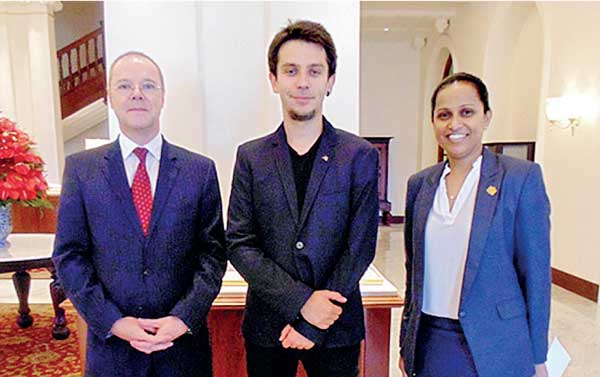 Dr Dragos being welcomed by GFH
The Galle Face Hotel announced that The SLITAD National Conference 2016, themed 'Building World Class Organisations,' will be held on 9th and 10th of June at the BMICH, followed by a CXO forum at the Galle Face Hotel on the 10th of June at the Jubilee Ballroom.

Galle Face Hotel has also organized an open movie night on the 15th of June 2016 at 6pm onwards. The event will screen the movie 'Amazing You' directed by Dr. Bratasanu himself.

The Conference is the most anticipated event in the Institute's annual calendar and attracts several high profile organisations, leading conglomerates including public sector entities and individuals.
This year's event will be graced by the Minister of Skills Development and Vocational Training Mahinda Samarasinghe who will attend as Chief Guest. The keynote speaker at the CXO forum will be Dr. Dragos Bratasanu, an award-winning scientist/Consultant of NASA and an international speaker on the social factors that invisibly drive success.

Dr. Bratasanu is an internationally renowned award winning scientist and human performance expert. He is the Founder and President of Success Engineering Corp., a company focused on providing cutting-edge sustainable solutions for enhancing personal and organizational success. He is also the official provider of the NASA Social Risk Management and Leadership Development Program, offering international clients access to the same instruments and techniques used to drive performance in the most complex programs in the world – the Space Shuttle, the International Space Station and several other state-of-the-art flight projects.

As a speaker, he has addressed audiences on five continents - Europe, North America, Asia, Australia and Antarctica. He also holds a Ph.D in aerospace engineering from the University of Siegen in Germany and is a graduate of the Business & Management Department at the International Space University Space Studies Program 2012 hosted by Florida Institute of Technology and the NASA Kennedy Space Centre.

He is the author of 'Engineering Success' which describes how NASA builds leaders and teams and also directed the movie 'Amazing You', a breath-taking journey to personal fulfilment with NASA's top leaders and other international personalities.

The Conference is aimed at building awareness on the conceptual framework in Human Resource Management and Development.

The technical Sessions would be conducted by Mr.HiranCooray, Chairman - Jetwing hotels, Mr.AravindaPerera - Managing Director Sampath Bank, Mr.RamalJaysinghe - Director/CEO Asian Alliance Insurance as well as several other well-known Sri Lankan business personalities. Enjoy an authentic cinematic experience with Chef Adam Gaunt Evans' classic caramel popcorn, hot dogs and lots more, along with a one-on-one experience with Dr. Bratasanu during the movie screening of 'Amazing you'. Entrance is free for all.