---
361 Degrees, Sri Lanka's leading integrated HR solutions partner, has completed 1,100 training programmes in record-breaking fashion after hitting the 1000 training programme mark just seven months ago.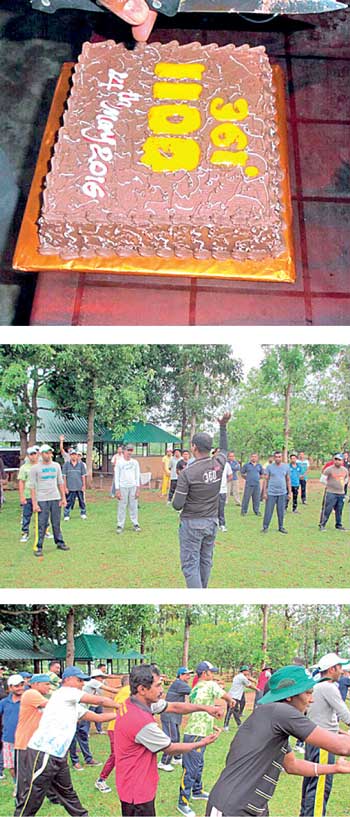 The milestone programme was conducted for Fonterra Brands Sri Lanka employees, the dairy cooperative behind Anchor milk, one of the longest standing partners of 361 Degrees.
The programme was part of a series of personal development programmes carried out for the dairy company's manufacturing employees.
Fonterra Brands Sri Lanka Director Human Resources Dinusha Jayamanne said, "As a company we place a lot of focus on developing our people and a key part of this is through structured training programmes that help our people unleash their potential. 361 Degrees has played a significant role in supporting us to develop inspiring leaders within our teams. We congratulate them on achieving this milestone and look forward to continuing our longstanding partnership to train and develop our people."
Among the latest 100 programmes, 361 Degrees carried out training programmes for several leading organisations such as NDB Bank, LOLC, DPMC, HSBC, JKH, CTC, AB Mauri Lanka, Triumph International Lanka, Hilton Colombo and MillenniumIT. The company has also expanded the locations where they carry out their training programmes with the addition of Udawalawe and Dambulla to the existing locations of Belihuloya, Kitulgala, Bolgoda, Thulhiriya, Hanwella and Tangalle.
Since its inception back in 2001, 361 Degrees – formerly known as Wild Drift - has been conducting training programmes to over 220 entities in both Sri Lanka and overseas. The company continues to provide innovatively practical and tailor-made learning solutions for a wide variety of clients. 361 Degrees' HR solutions broadly include Team building, engagement and training programmes.
Team building, which may or may not be an outdoor programme, focuses on enhancing teamwork within a group of individuals such as a department of a company. Engagement takes place through a variety of activities such as sports days, family days, fun/discovery amazing chases, ice breakers, celebration programmes, quizzes, award/recognition ceremonies, conferences, product launches, theme nights and motivational speeches. Training programmes include anything from leadership, team building, engagement, creativity/innovation enhancement and induction programmes.
The company attributed the acceleration of the latest 100 training programmes to the expansion of its facilitator team through its comprehensive in-house facilitator development programme. This development programme allows interested individuals, including part-timers, to undergo in-depth training that instils in them the various aspects required to become a successful facilitator at 361 Degrees.
Candidates that shine during the programme have the opportunity to become a senior facilitator in a relatively short period of time. Having such a larger number of highly-trained facilitators allows 361 Degrees to carry out several training programmes in parallel in different locations of the country, a facility that is not available amongst their competition.
361 Degrees Chief Visionary Officer Rukmal De Silva stated, "We are proud to have surged to this latest milestone of the company in record time. We recently launched our breakthrough approach to training - the 'Thank God It's Monday' approach - which focuses on enabling people to 'Be Better, Be Happier' at the workplace. This approach was a culmination of 15 years of intensive research and experimentation as Sri Lanka's leading HR solutions partner.
In a nutshell, what this means is that creating happiness at work boils down to five key feelings - how strongly does an employee feel that he or she belongs to the organisation, how much rapport do they feel with their team, how well does the organisation's leadership and structure make them feel enabled, how much of a sense of growth and development do they have and how excited are they about what they do."
Outlining his views on the latest milestone of the company, Head of Operations Gihan De Silva explained, "The key to our accelerated growth since passing the 1,000 training programme landmark is our large team of facilitators. Through our in-house facilitator development programme we are producing more facilitators which means that we have the capability to carry out several training programmes for different clients in different locations simultaneously, all the while offering the same high-quality of training and guidance that we are renowned for."
He added that with this boost in internal resources, the company expects to continue on the path to accelerated growth into the foreseeable future in enabling more people at work to move 'A Degree Beyond'.