---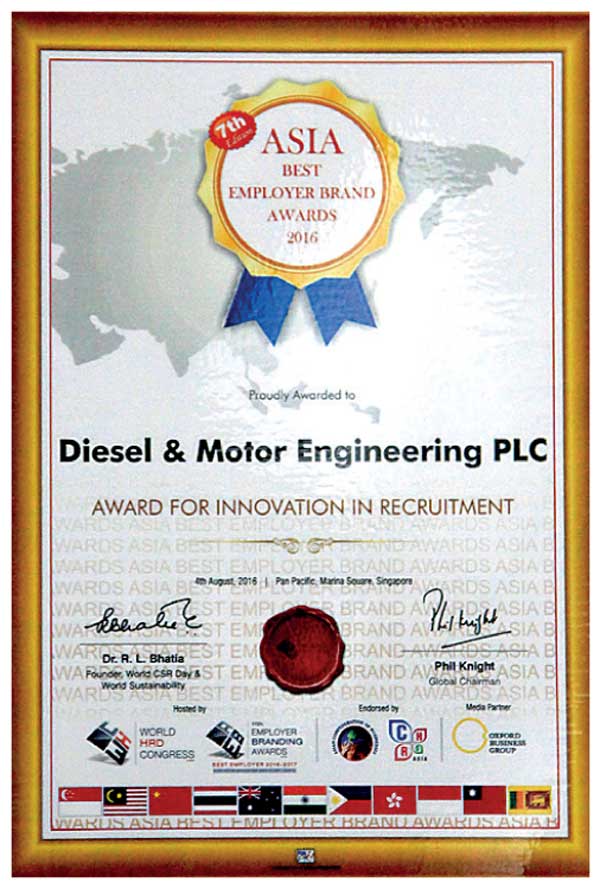 Diesel & Motor Engineering PLC (DIMO) has made its mark yet again at a higher level by bagging a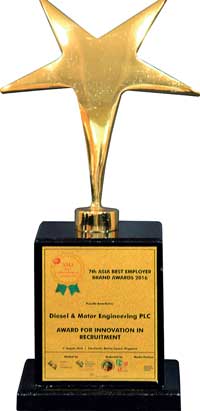 record tally of three awards at the 7th Asia's Best Employer Brand Award ceremony hosted by Employer Branding Institute, World HRD Congress & Stars of the Industry Group and Endorsed by Asian Confederation of Businesses this year at Pan Pacific, Singapore.

DIMO has been recognized under 3 special category awards at this glittering ceremony held on 4th August which included: Asia's Best Employer Brand Award, Award for Innovation in Recruitment and Award for Excellence in Leadership Development.

Dilrukshi Kurukulasuriya (General Manager - Human Resources) represented DIMO at the event.

The accolades, along with the continuous winning streak, have been a testament to their constant commitment to Best practices.

This also provided a forum where Human Resources executives could connect with each other to share their best practices in
Employer Branding
Outstanding professionals from several countries who are contributing to "Talent Management, Talent Development and Talent Innovation" are a part of the Employer Branding Institute.
The Institute is exemplary in the manner in which it is run and has created a platform to celebrate the best in Employer Branding in several Asian countries.
With over seven years of existence the network of Employee Branding Institute is increasing in size and stature with many HR leaders from over 36 Countries, recommended individuals and organisations who are doing exemplary work.

With a vibrant history spanning 77 years, DIMO takes pride in representing the Best Engineered brands in the world, in Sri Lanka.
These include world famous marques such as Mercedes-Benz, Siemens, Bosch, Jeep, Tata, Osram, Michelin, Zeiss, Komatsu etc.

DIMO also got awarded as a Great Place to Work in Sri Lanka for the 4th consecutive year, whilst winning many other category awards.
Moreover, DIMO has received numerous accolades for their HR best practices locally and internationally.