---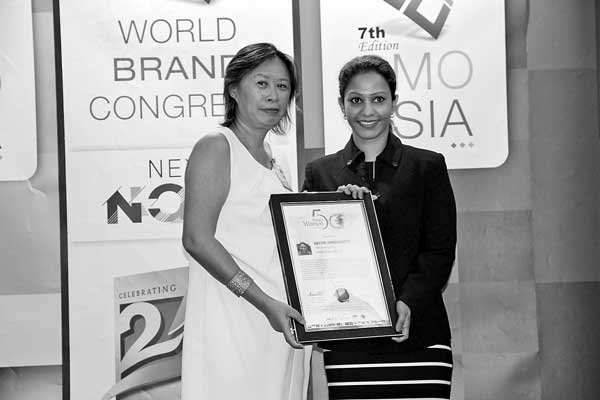 At the seventh edition of CMO Asia Awards 2016, Coteso Global (Pvt.) Limited Chief Marketing Officer (CMO) Nayomi Handunnetti was recognised as one of Asia's 50 Women Leaders.

Her place in this distinguished sorority acknowledges her stellar work over more than 15 years for some of the biggest names in the global marketplace. The ceremony, held in Singapore recently, hosted eminent businesspeople from all over Asia to share global best practices and identify noteworthy contributions to the marketing field across industries.

As CMO and one of the founders of Coteso Global (Pvt.) Ltd, she has been vital in connecting with stakeholders, handling global sourcing and developing marketing strategies that help the company fulfil its vision of providing image processing, computer vision technology and automation solutions to any industry, whether apparel, medical, confectionary, banking, finance, hospitality and tourism and the list goes on. The company is committed to discovering cutting-edge solutions that make business easier for their clients, holding multiple international and Sri Lankan patents.

Handunnetti's all-round potential was apparent early on when she became the youngest candidate to complete pianoforte and theory from the Royal Schools of Music, London. On the business front, she received the lBM Rookie Salesperson of the year award. No stranger to global brands, her tenure at MAS Holdings (Pvt.) Ltd the largest lingerie exporter in Sri Lanka, saw her working with Marks & Spencer, Amante, BHS, TESCO, Sara LeeCourtaulds and Amate.

A professional woman is one of many facets, and Handunnetti embraces all of hers. From her beautiful family, pursuits in the fields of music and yoga, to her dedication to helping other women find success in entrepreneurship, varied elements give her the strength to lead effectively. Her broad education is testament to her wide-ranging interests, as she holds, a Master of Science degree (Malaysia), Master of Business Administration (UK), a Diploma in Marketing (UK) and a Certificate in Textile Technology (SL). She is also a Certified Management Accountant (Australia) and PhD Researcher.

Her diverse life and career has given her a deep understanding of the challenges unique to female entrepreneurs, such as social expectations, balancing work and family and building a support system, and Handunnetti is committed to supporting other women on similar journeys.

Speaking of the award, she said, "I am honoured to be counted among those who have achieved so much, not only professionally, but through their contribution to society. It has inspired me to challenge my limits and to work more with others to create meaningful change."