---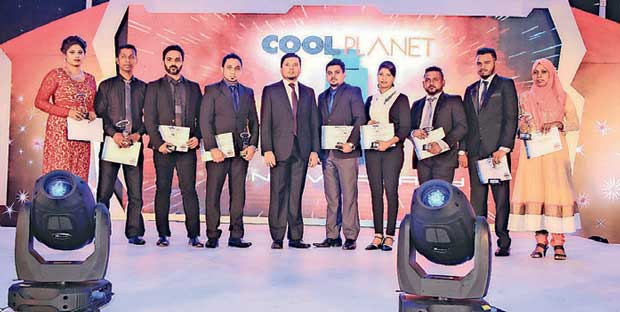 The 10th year completed staff with Managing Director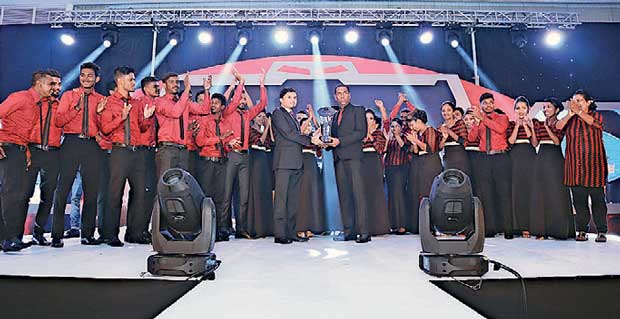 Best Branch Malabe team receiving the award from Managing Director
One of the leading fashion chains in Sri Lanka, Cool Planet, celebrated its 10-year milestone with an extravagant event held recently for its fellow employees and invitees.
With remarkable and consistent strive, the organisation started off with only 17 employees that were in charge of running the showroom to 600 staff members across seven branches.
The CEO stated, "Our success story is because of our dedicated employees and the loyalty of our customers. So, this is time we shared our story as well as find a way to give back by recognising our supporters."
Alongside this continuous growth, Cool Planet, as an employer, showed utmost respect for its employees during this festive event by presenting awards for best performance, 10 years of service and various other tokens of appreciation. According to the Managing Director, 10 employees out of the initial 17 are still working for Cool Planet with resilient determination and motivation in supporting the wellbeing of the organisation. Cool Planet also visited its very first customer before the event as it wanted to appreciate him for trusting the brand and for his continuous loyalty over the years.
Since its establishment, it aims to provide its customers with the quality products at affordable rates. In order to provide a 100 percent guarantee the Cool Planet Managing Director gets him involved in the selection, quality check and approval when necessary as he drives this company to provide his customers with a unique, as well as limited edition collections.
Little do many know that 80 percent of its suppliers are from within the nation. Cool Planet not only provides quality to its consumers, but also contributes to society by providing a growing opportunity to the citizens of the country to help better the employment sector within our rising nation.
"We, as an organisation, preliminarily started off as a clothing outlet but over the years diversified our roots into providing our customers with not just clothing needs but a one-stop hub for a complete solution," said the Managing Director.
Hitting this 10-year mark is an eye opening success story for the organisation and its local manufacturers as growth is continuously found in the entire business supply chain.
In order to give back to the customers, Cool Planet is planning on an exciting new launch in which it provides a whole new customer experience in the most thrilling way. It will be a customer journey not seen by many before in Sri Lanka as it holds the most important values which are the customers, latest trends and a complete satisfaction brought by loyalty. A whole new game-changing experience is waiting to be launched in appreciation for the many customers of Cool Planet.
A 10-year mark that will change the whole conceptualisation of the fashion industry dedicated to this huge milestone accomplished thanks to the entire support system that this organisation is and has been running on.