---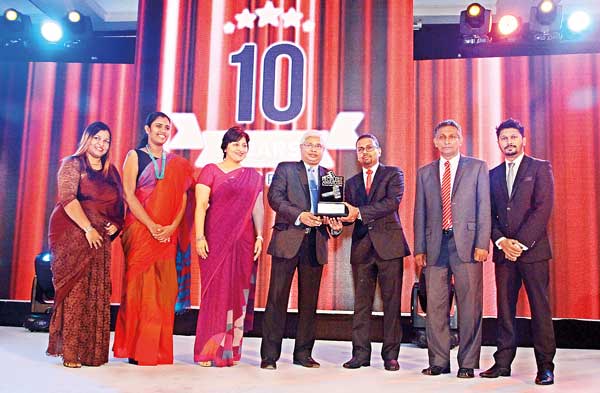 From left: Coca-Cola Beverages Sri Lanka Limited Capability Development Manager Sales Tania Karunaratne, Coca-Cola Beverages Sri Lanka Limited Assistant Manager Trade Marketing Mishani Nimeshika, Coca-Cola Sri Lanka Private Limited Managing Director Sonu Grover, Sign-Tech Advertising Services Limited Chairman/Managing Director Kassapa De Silva, Coca-Cola Sri Lanka Private Limited Country Marketing Manager Shantha Fernando, Coca-Cola Beverages Sri Lanka Limited Sales Manager Upali Kapugama and Coca-Cola Sri Lanka Private Limited Executive Marketing Operations Murshid Munsif
Brand Coca-Cola reinforced its market leader status yet again after being adjudged the SLIM-Nielsen 'Youth Beverage Brand of Year' for the ninth consecutive year at the 10th SLIM-Nielsen People's Awards held in Colombo.

The brand continues to refresh the people of Sri Lanka, forging a special connect with the nation's youth through new and innovative sports, music, festivals and social projects. The highly coveted award was accepted by Coca-Cola Sri Lanka Private Limited Managing Director Sonu Grover, Coca-Cola Sri Lanka Private Limited Country Marketing Manager Shantha Fernando and team.

Commenting on the win, Grover said, "We are delighted that the youth of Sri Lanka have placed their trust in us and chosen us 'Youth Beverage Brand of the Year' for the ninth consecutive year. As a custodian of their trust for nine years in a row, we believe that it is our commitment to really listen to our consumers which has helped us earn their trust. Our close engagement with consumers empowers us to deliver a product they can truly embrace and call their own.

The local consumer is evolving fast and we make sure that we remain at the crest of that change as it happens, so that we remain flexible, innovative and meet changing consumer needs. We believe that brand Coca-Cola is owned by a community of millions of consumers and what truly connects us with them is three simple words: Coca-Cola brings joy. This brand ethos is reflected in everything we do. We would like to thank our consumers for their support in awarding us this important milestone."
The SLIM-Nielsen People's awards were created to honour and recognize brands and personalities that have made a profound impression on the minds of the Sri Lankan people. Today, no joyous celebration in the country is complete without Coca-Cola. From becoming part of traditional festivals such as Avurudu, to activating the Christmas Caravan during the festive season, Coca-Cola has found myriad ways in which to become a memorable part of consumers' lives. Everything is filtered through the brand's core values of happiness, refreshment, optimism and fun.

From its unmistakable script logo to iconic Santa Claus and memorable Christmas campaigns, The Coca-Cola Company in Sri Lanka has managed to successfully stitch the brand into the fabric of Sri Lanka. With its exceptional quality and uplifting, refreshing and energizing taste, Coca-Cola has and will continue to create moments of togetherness and happiness for thousands of Sri Lankans.

The year 2015 witnessed the launch of the global campaign 'Share a Coke'. The campaign was adapted to Sri Lanka and was called 'Say it with Coca-Cola'. The campaign was about the power of expression and sharing moments of happiness by sharing feelings in a social and playful way. Common expressions in English, Sinhalese and Tamil were made available on 500 ml and two litre bottles of Coke. The consumers could get their very own special edition Coca-Cola bottle and say all the things they ever wanted to with Coca-Cola. This campaign was localized for Sri Lanka by using popular colloquial expressions to give youth the chance to express themselves in a fun and culturally relevant way.

Over the past five decades, The Coca-Cola Company has created a special place for its range of beverages, in the hearts of the people of Sri Lanka. Today, the company leads the beverage market with a robust portfolio of international and local brands including Coca-Cola, Coca-Cola Light, Sprite, Fanta Orange, Fanta Portello, Fanta Cream Soda, Lion Soda and Lion Ginger Beer.