---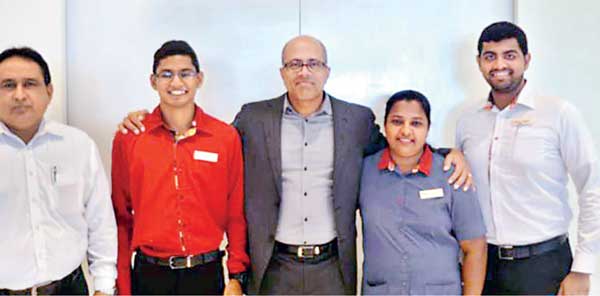 Employee of the quarter Shahin Ahmed and Tilina Perera with Head of Rooms Division Mirza Fajudeen, Cinnamon Red General Manager Terrence Fernando and HR Head Dinesh Supramanium
Cinnamon Red held its Associate Quarterly Meeting for Q1 2016/2017recently and appreciated their staff for their hard work and dedication.

Following a presentation on performance targets of the hotel by General Manager Terrence Fernando,Red's dynamic individuals and high performers of the quarter both from front of the house and back of the house were commended and given awards.

Front Office Associate Shahin Ahmed won the Employee of the Quarter for Front of House and Housekeeper Tilina Perera Employee of the Quarter for Back of House at the event.