---
The prestigious award presented by the Institute of Personnel Management (IPM) Sri Lanka for the IPM Professional Qualification in Human Resource Management (PQHRM) HR Professional of the Year was won by Chaya Wickramadara.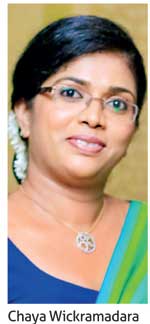 Chaya was recognized and presented the award at the IPM National HR Conference 2017 held at the BMICH recently. The IPM PQHRM HR Professional of the Year award is an individual award presented in recognition of the contributions made by IPM PQHRM graduates and passed finalists who have excelled in the 'world of work' by fulfilling their individual, organizational and societal obligations through creative and innovative people management practices. All aspiring human resource professionals who have successfully completed the IPM PQHRM qualification are eligible to participate in this competition. The IPM PQHRM HR Professional of the Year is selected by a panel of judges comprising experienced HR professionals, academics and industry representatives based on the notable achievements and contributions of the aspirants towards the betterment of their work place and society. Lalith Wijetunga, former President-IPM Sri Lanka officiated as the Chairman of the Panel of Judges of the IPM PQHRM Professional of the Year 2017 competition.

"I take this opportunity to congratulate Chaya Wickramadara for being selected as the IPM PQHRM Professional Year of the Year 2017 award" said IPM Sri Lanka President Prof. Ajantha Dharmasiri.
"IPM PQHRM is the foremost professional qualification available to HR professionals. It is highly regarded by the HR fraternity and is considered as the de-facto standard in the field of human resource management. IPM PQHRM recently received accreditation from the prestigious Asia Pacific Federation of Human Resource Management making IPM PQHRM as an acceptable and recognized qualification in the whole of the Asia Pacific region. It is the first and only HR qualification to receive this accreditation" he added.

Currently working as the Human Talent Development Manager at Printcare PLC, Chaya is a proud product of Anula Vidyalaya. She completed her studies in the languages stream and decided to pursue a career in human resource management. Chaya has since displayed her inherent talents and skills in her chosen career and has over 12 years of HR experience. After successfully completing the IPM PQHRM, she joined the Sri Lanka Institute of Training and Development (SLITAD) to sharpen her skills in Training and Development. Chaya also holds an MBA from the Cardiff Metropolitan University.