---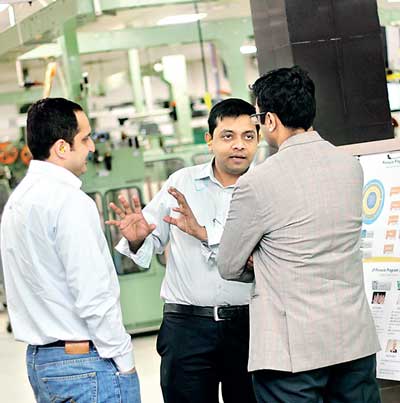 Ceylon Tobacco Company PLC (CTC) has over the years established itself as a benchmark in talent development by empowering employees to fulfil their potential as world-class professionals. Reiterating the company's emphasis on employee relations, Rukshan Ranasinghe recently returned after a successful five year stint at the British American Tobacco (BAT) offices in Bangladesh and Pakistan respectively.
The company strategy is aligned with attracting, developing and retaining a globally fit local workforce. Over the years the CTC has made considerable investments ensuring that a talented team is developed to not only take the business forward but also to export Sri Lankan talent to the wider BAT Group, thus providing global career opportunities.
This progressive work culture has enabled CTC to produce a cross-section of corporate success stories that drive high performance and unleash true potential. Commenting on his stint abroad, Rukshan Ranasinghe, Manager Ceylon Tobacco Company said, "It was indeed a privilege to be given the opportunity to work with and be exposed to different work cultures and business environments within the BAT network. It was challenging simply because both markets are very different to Sri Lanka, being two of the most competitive business environments that BAT operates in.
However, the BAT culture that permeates across all group subsidiariesallows employees to perform to their fullest potential fulfilling our personal and professional aspirations." "I had the opportunity to work in two very diverse and challenging roles within the Supply Chain function within the span of five years" notes Rukshan.
During his stint at BAT Bangladesh as the Logistics Manager, Rukshan was responsible for end-to-end logisticsandoverlooked operations relating to import and export, leaf, finished goods and other factory logistics.
He then moved to Pakistan Tobacco Company as the Secondary Manufacturing Manager where over the next two years he played a central role in the implementation of new machinery and technology catering to the growing volumes while also ensuring compliance with global BAT standards.
Rukshan joined CTC as a Management Trainee in the Supply Chain function in 2001 and has held several key roles within the function and in Finance before taking on the senior roles across South Asia Area (SAA). During his tenure at CTC, he was responsible for executing several key initiatives such as contractor rationalisation and logistics optimisation which served to improve productivity in the Company.
He also developed a Quality Information System which is being used by both CTC and Pakistan Tobacco Company for over a decade. Speaking on his current role at CTC, Rukshan says, "I am currently heading a team that is implementing the Integrated Work Systems (IWS) project within the three markets in SAA.
This project will help the three companies to improve overall efficiency and minimise waste." Commenting on the Company's employee relations, Michael Koest, CTC's Chief Executive Officer and Managing Director, said, "At CTC we adopt a unique Human Resource approach that is defined by the growth opportunities we offer our employees. Our primary focus is on people as the fundamental core of the corporate.
We are therefore, consistently looking to create opportunities for our employees to gain exposure within theGroup. It is this exposure to different marketsthat creates a culture of continuous enterprise-wide learning which enables every employee to work towards a common goal." CTC will continue to offer its employees a diverse range of experiences that showcase the Company's high performance standards, commitment to excellence and good employer relations.