---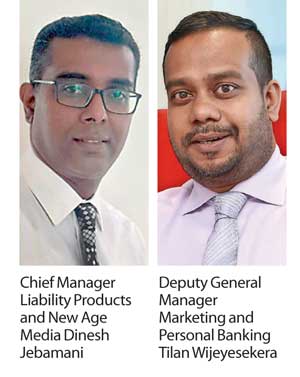 Being the pioneer in the social and digital media in banking and finance sphere in Sri Lanka, Seylan Bank's notable digital presence has been acknowledged and rewarded at many local and global awards. This year too adding on to its awards portfolio, Seylan Bank was rewarded with two Gold and two Merit awards by CMO ASIA for Social Media and Digital Marketing Excellence Awards held in Singapore recently.

Seylan Bank's social customer service lines won Gold for its innovative approach to digitally assisted customer support through social/online channels such as Facebook messenger, which is a 24x7 messaging platform for queries, WhatsApp hotline 0772008888, Seylan website www.seylan.lk online chat service, which is available to obtain real-time and automated responses, attended by personal agents and staff.

The bank's Facebook page won Gold for Best Use of Facebook. The bank's Facebook page has been number one in terms of engagement keeping the momentum growing as the 'Most Socially Engaging Bank' in Sri Lanka. The Facebook page of the bank, which is www.facebook.com/SeylanBank focuses on six pillars such as engaging and interesting content, interactive apps and gamification, information on products and services, special promotions and real-time interactions with fans. The page counts at 476,000 plus fans with social media presence on other relevant social media channels such as Instagram, Twitter, LinkedIn and snapchat.
The bank also received Certificates of Merit for Best Website and Best use of Social Media in Marketing. The recently relaunched Seylan Bank website www.seylan.lk now has a wide array of features to cater to the convenience of its customers such as online calculators, online real-time chat, gift calculators to find out what your next gift would be when you save in Seylan Tikiri and open accounts online and many more information to make sure all visitors to the website are updated and engaged with the bank's products and services.

Deputy General Manager Marketing and Personal Banking Tilan Wijeyesekera stated, "We are pleased to receive this recognition of engaging with our stakeholders with our teams sustained efforts to innovate and stay relevant to our digital community and customer's needs. We will also continue to strive to improve and enhance our channels to add value to our customers whilst our real reward is the knowledge that we continue to increase the convenience of their banking activities."
Chief Manager Liability Products and New Age Media Dinesh Jebamani stated, "We are happy to win these accolades and be recognized for all the effort made by our team of staff and collaborative partners Loops Solutions for social media, E-Futures for our website and contact centre that's provides our chat support Scicom Lanka (Private) Limited. We will continue to evolve in this space and provide innovative solutions and engagement to our online community."