---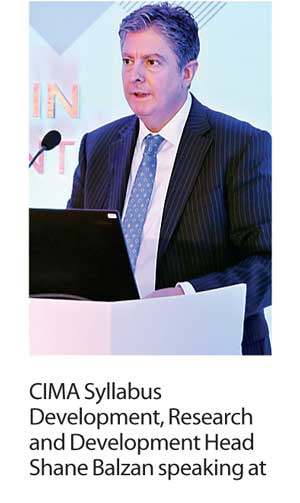 The Chartered Institute of Management Accountants (CIMA) launched the updated CIMA Certificate in Business Accounting (Cert BA) in Sri Lanka recently, with launch events organised for employers and tuition providers. Assessments under the updated syllabus will commence in January 2017.

The full syllabus content has been reviewed and refreshed, following thorough global industry and educational research, to ensure it remains up-to-date and relevant. Sri Lankan organisations were part of CIMA's global research, which encompassed the private and public sectors, non-profit, small and medium enterprises (SMEs) to large global corporations.

The update addresses, the changing role of the finance function, where qualitative skills of analysis, insight and impact are becoming increasingly important. Through this update, CIMA aims to ensure that learners, educators and employers work together in a more cohesive manner to benefit both the employers and the individual.
The syllabus reflects the emerging issues faced by businesses and responds to their need for competent, confident and skilled professionals, whilst equipping individuals with the knowledge and skills they need to further their careers.

The Cert BA is designed to give anyone a solid grasp of the fundamentals of business and finance. While the updated Cert BA is a standalone qualification, it also continues to serve as a prerequisite to the Professional Qualification.

The update now aligns the Cert BA more strongly with the Professional Qualification by embedding the CGMA Competency Framework (compromised of four knowledge areas – technical, business, people and leadership skills, underpinned by the need for objectivity, integrity and the need for ethical behaviour) and integrating the 'three learning pillars' structure.