---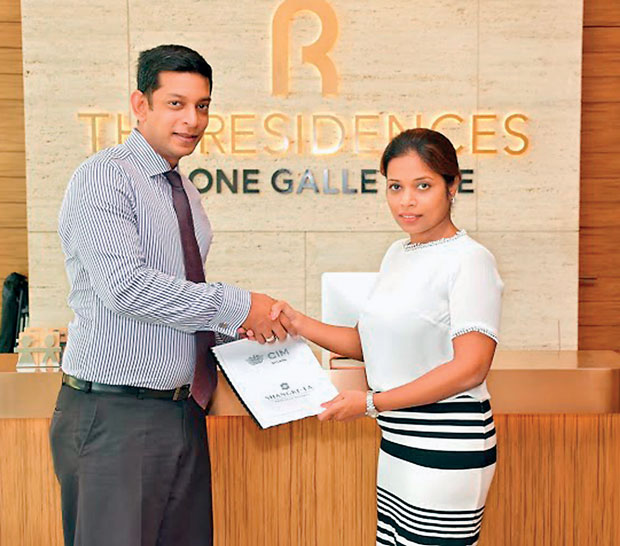 Brian Selvanayagam, Vice Chair, Chartered Institute of Marketing, Sri Lanka with Neluka De Alwis, Head of Sales and Marketing (Residential), Shangri-La Hotels Lanka (Private) Limited
The Chartered Institute of Marketing Sri Lanka entered into a strategic partnership with 'The Residences at One Galle Face' renowned property developer and hotel group.
Shangri-la Hotels and Resorts was one of the event partners for the flagship event of the Institute's Annual Calendar, CIM Sri Lanka Annual Conference, held on 28th and 29th June. The partnership between CIM Sri Lanka and Shangri-Lawill mutually benefit both organizations in terms of strengthening their respective brand identities in the market.
Commenting on the partnership, Brian Selvanayagam, Vice Chair of CIM Sri Lanka said, "We are proud to partner with 'The Residences at One Galle Face 'as one of our event sponsors and are grateful to their continued support to promote CIM and its activities in Sri Lanka".
CIM Sri Lanka is the first International branch of CIM UK and is proud to claim the largest membership outside the UK. Celebrating its 20th Anniversary, CIM Sri Lanka has always campaigned for high professional standards, greater recognition for the Profession and Marketing excellence in Sri Lanka through education, training and development.
Neluka De Alwis, Head of Sales and Marketing (Residential) of
Shangri-La Hotels Lanka (Private) Limited stated, "We are delighted to sponsor a renowned professional body such as The Chartered Institute of Marketing Sri Lanka as it will be a great opportunity to work together with the largest professional body for Marketing in order to further strengthen our valuable customer network'
Shangri-La opened its first deluxe hotel in 1971 in Singapore . Today, Hong Kong-based Shangri-La Hotels and Resorts is one of Asia Pacific's top luxury hotel groups. Regarded as one of the world's finest hotel ownership and management companies with 85 hotels and resorts throughout Asia Pacific, North America, the Middle East, and Europe they are grouped under brands Shangri-La Resorts, Shangri-La Hotels, Traders Hotels, Kerry Hotels and Hotel Jen.
Cooperating with sister companies Kerry Properties and Shang Properties, Shangri-La has also developed integrated properties across China, Mongolia and the Philippines, including Beijing Kerry Centre, Kerry Parkside Shanghai, Shangri-La Centre Ulaanbaatar. These mixed-use properties offer luxurious high-rise apartments, world-class office facilities and exciting retail environments for a range of guests and residents.
One Galle Face will capture the legendary hospitality and operational expertise Shangri-La is celebrated for worldwide and commitment to fill life with priceless moments will bring a new standard of living to Colombo.