---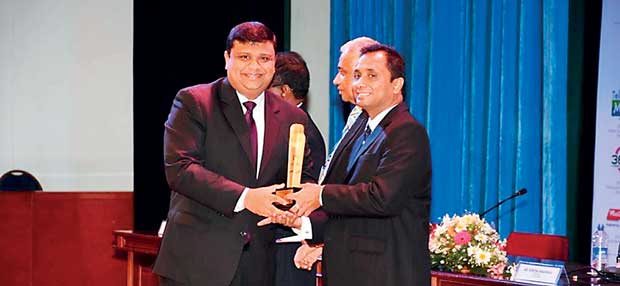 Paduma Subasinghe-Senior Vice President, Group Human Resources-Brown & Company PLC, receiving the award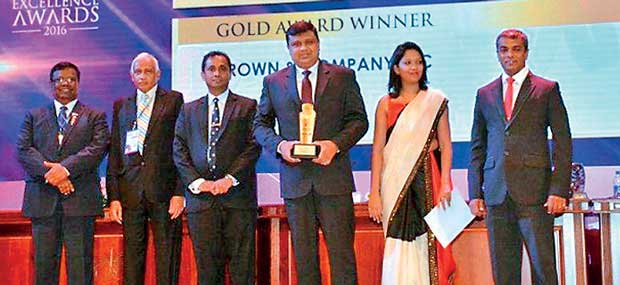 Brown & Company PLC bagged a prestigious award at the National HR Excellence Awards held at the BMICH on 21st of June.
Browns won Gold in recognition of its exceptional contribution towards driving organizational performance through sound human resources management practices.
The National HR Conference organised by the Institute of Personnel Management Sri Lanka (IPM), is held every year to recognise and award exemplary HR organisations and professionalsthat bring out the best in employees through commendable HR and people management practices. A series of coveted awards endorsed by the Sri Lankan HR Community are presented at the ceremony.
Browns was shortlisted among top corporate contenders for this category.Whilst this award enables Browns to make its mark in the Corporate World,it is a remarkable milestone in the 140 year history of Browns; a giant step towards a bigger and better organizational future.To be shortlisted among reputed organisations for the excellence awards is no easy feat, as only the very best who meet the stringent criteria are considered. The judging panel consists of respected and reputed HR Professionals possessing in-depth expertise in the respective field and industry.
This award is a strong testament to the fact that Browns as an organisation considers its employees as the most valuable asset and continuously strives to facilitate a good career path & growth and also imbue innovative and sustainable people practices. All internal operations at Browns is geared towards supporting each and every stage of the employee life cycle with a focus on delivering excellence and value for employees.
"We redefined theHR vision for Browns two years ago and wanted to take Browns to greater heights and establish a strong recognition as one of the best companies to work for in the years to come. Winning this award is an opportune recognition of all the hard work and effort we as a team have endured in making this vision a reality. We are Honoured to be placed among some of the top corporate contenders," said Paduma Subasinghe-Senior Vice President, Group Human Resources.
"We have established processes and means by which every employee has the opportunity to be exposed to career specific training, workshops, knowledge sharing sessions etc. We have created an environment where by employees are encouragedto recognise their individual training needs, and in turn be privy to such training," added Subasinghe. Commenting further, he said, "as an employee it is his or her duty to give ones best to the organisation but most importantly it is the organisation's management and systems that should give the employee a reason and motivation to smile every morning about working at Browns. This is evident at Browns, where the Chairman and Board of Directors have put theiremployees values first. We aimto further establish a more open, flexible and caring management style so that staff will be motivated, developed and managed in a way that they can give of their best to support organizational missions.Sound Human Resources practices are critical in helping achieve departmental objectives and enhance productivity".
Brown & Company PLC is a diversified conglomerate, managing a fast growing and valuable portfolio of brands across several key industry sectors including power generation, home & office solutions, agriculture & plantation support services, pharmaceuticals, investments, marine & manufacturing and healthcare.