---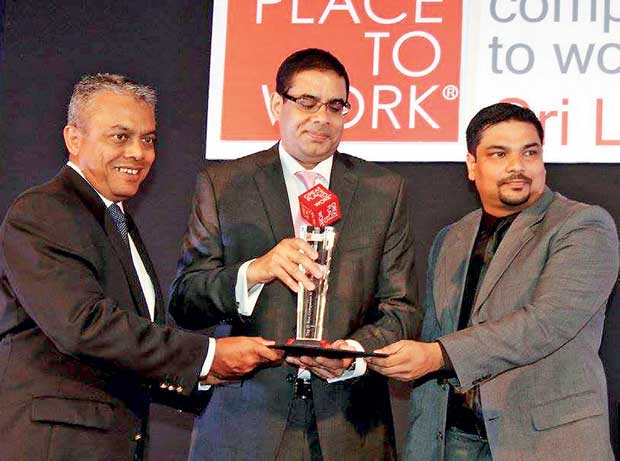 Asian Alliance Insurance has been recognized as one of Sri Lanka's best work places by Great Place to Work Institute,
Sri Lanka.
The ranking, carried out in partnership with the Ceylon Chamber of Commerce (CCC) and LMD magazine, is the world's largest annual study of workplace excellence and has identified the top 25 best firms for 2016 in terms of workplace culture. Asian Alliance Insurance won this award for the first time, purely on its work culture, management practices and employee benefits.
"We are delighted to be recognized as one of the country's greatest places to work," said an upbeat Asian Alliance Insurance Managing Director Iftikar Ahamed.
"At Asian Alliance we understand the importance of having an exceptional work environment which translates to great results and happy clients. We believe strongly in the development and advancement of our people.
Our understanding of the importance of building diverse talent and striving to create an environment where our employees have successful work, life integration, resources to achieve their goals and a culture of opportunity, has paid off," Ahamed went on to note, while thanking the entire staff for their untiring efforts in achieving the accolade.
With employee strength of over 800, the company fosters a diverse and
inclusive culture.
"We are committed to ensuring that Asian Alliance Insurance remains a top-class company where only the most innovative and brightest people work, build careers and thrive," added Ahamed.
"We are dedicated to continually building our culture of growth, trust and respect. This award is a special recognition of our employee-focused culture and our firm's commitment to our core values of integrity and trust," said Head of HR Thilanka Kiriporuwa.
Great Place to Work study includes surveys that measure varied aspects of corporate culture such as employee and team engagement, work-life balance, manager effectiveness, among others. The study also assesses employee opinions while identifying and recognizing companies that have successfully built outstandingly positive workplace cultures.
The world's largest study of its kind, covering more than 50 countries, 6,000 organisations and evaluating over two million employees, every year, Great Place to Work covered over 50 companies representing 13 sectors. Of those registered in the survey, only the top 25 were chosen.