---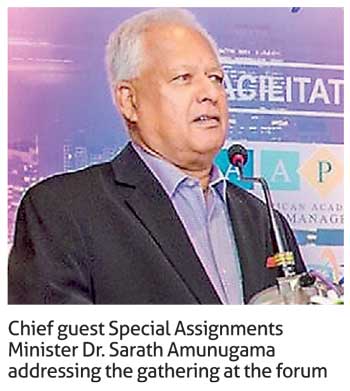 The Asia-Pacific Executives Forum was recently held at the Hilton Colombo with the participation of important dignitaries and the focus of the forum was on strategic development projects in Sri Lanka and promoting them globally.

Jordanian financier and Forbes magazine's one of the 100 powerful Arab businesswomen in year 2016 and 2017 Iman Mutlaq and Prof. Daniel Khan from UK gave the keynote addresses while the forum was moderated by American Academy of Project Management (AAPM) Country Representative Rajkumar Kanagasingam.

Special Assignments Minister Dr. Sarath Amunugama was the Chief Guest of the event representing President Maithripala Sirisena.

Prime Minister Ranil Wickremesinghe noted in his message: "It is pertinent to note that the forum will focus on strategic development projects in Sri Lanka and seek to promote them internationally, giving global investors the opportunity to engage with Sri Lanka."

Prime Minister further stated: "As a time when Sri Lanka is striving towards emerging as an economic hub in the region, this endeavour is both timely and relevant indeed for the nation's journey forward."