---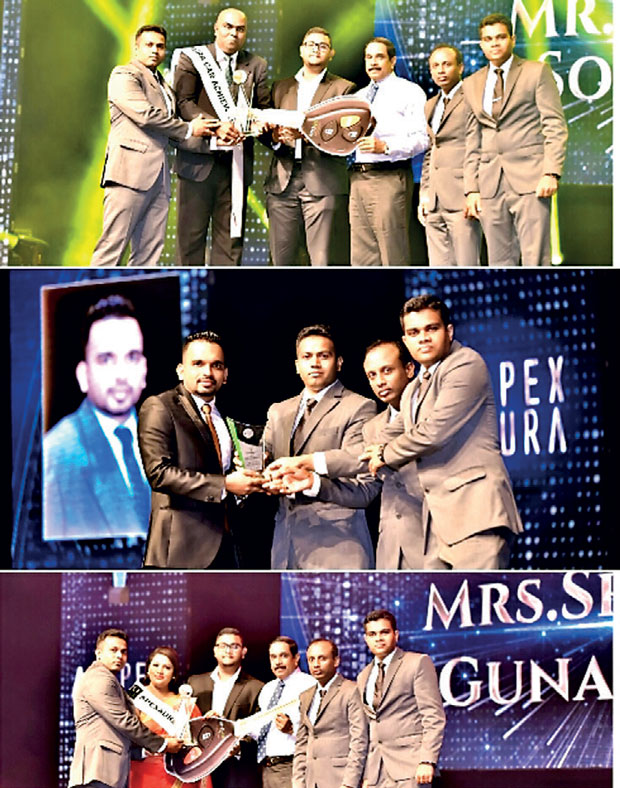 Niroshan Jayawickrama was appointed as the first 'Apex Senior Manager' while Tharanga Somaratne and Shashika Gunasinghe were named as 'Apex Managers' to win luxury vehicles. Prageeth Dinuka Perera was named as the 'Best Staff Member of the Year'
Apexaura Int. (Pvt.) Ltd, a leading organic food supplement company in Sri Lanka, celebrated its third anniversary in a prolific manner by recognizing its best sales personnel.

The anniversary celebrations and Sales Excellence award presentation was held at Nelum Pokuna headed by the company's chairman.

Taking performances as the criterion, Niroshan Jayawickrama was appointed as the first 'Apex Senior Manager' while Tharanga Somaratne and Shashika Gunasinghe were named as 'Apex Managers' to win luxury vehicles. Prageeth Dinuka Perera was named as the 'Best Staff Member of the Year'.
Apexaura is a leading brand in the country that has adopted Direct Marketing Strategy to market its products. The company was commissioned in 2014 with a view to providing Sri Lankan and global consumers with organic herbal food products by employing modern technological resources in manufacturing and distribution.

Preparation of traditional herbal foods is a process that is increasingly being neglected by people indulging in hectic modern lifestyles. Apexaura has focused on facilitating these consumers to overcome limitations on access and preparation of traditional herbal foods.

To facilitate consumers avoiding traditional foods and foods with Ayurwedic value due to hassle in preparing them, Apexaura produces natural organic herbal food supplements by employing modern sophisticated methods in the world.

The company has a diversified product portfolio and caters to beauty and home care markets as well. A range of herbal cosmetics is the newest addition to the company's product portfolio.
Apexaura's organic herbal food supplement range of 15 products includes goraka, kollu, ingini, pumpkin seeds and kalanduru. These products manufactured to the international standards are enriched with
Ayurwedic value.

Apexaura has compliance with international standards and has ISO 9001:2008, ISO 22000:2005, HAACP and GMP certifications to its credit.

Apexaura chairman said the company was commissioned three years back with the object of providing organic herbal food products to Sri Lankan and global consumers who miss them due to their hectic lifestyles.

"We became successful in a short span of time due to our production processes that made emphasis on maintaining natural value of nutritious native foods and also due to the dedication of our direct sales personnel.

Last year our sales team has performed exceptionally well and today we recognize them with awards and accolades to pay our gratitude and motivate them further. Apexaura is the only company in the world that entitles its direct sales persons to payroll," he said.

He added, "We are planning to offer our loyal customers a range of natural herbal cosmetic products soon. We also look forward to commencing the 'Billion Tower' project within
our company.

Apexaura was commissioned in 2014 in Sri Lanka and its foreign branch is situated in Bangalore, India.

Recently the new Apexaura head office was opened in Malabe town as a one-stop-shop. Customers can now obtain all services offered by the company from Malabe head office.