---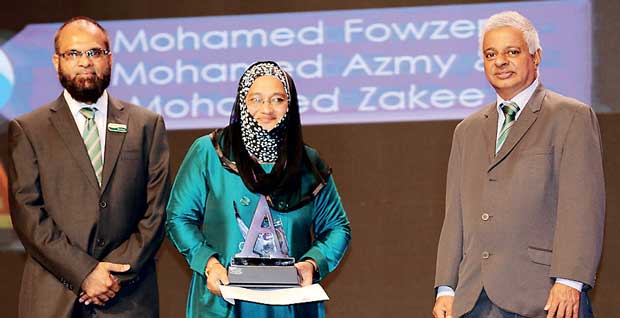 Amãna Bank, Sri Lanka's premier non-interest based Islamic financial services provider, recently concluded its inaugural Staff Awards Ceremony at the Nelum Pokuna Theatre.

Held under the theme 'Rewarding Excellence', Amãna Bank Awards 2015 recognized the high performing individuals and branches during the aforementioned period.

The event was held under the patronage of the Bank's Chairman Osman Kassim, along with the participation of the Board of Directors and the Management Committee.

Role based Individual Awards were bestowed to recognize the Best Business Development Officers, Customer Relationship Managers, Asst. Branch Managers and Branch Managers. Grade based awards were dedicated towards recognizing the best talent within each grade. Branches were recognized in terms of Best Deposit Mobilization Branch, Best New Entrant Branch and Best Overall Branch. The Bank's Akurana Branch walked away with the Gold Award for Best Overall Branch while Puttalam Branch was bestowed the Silver. The Bank's Support Units were also separately recognized.

Further the Bank availed a series of qualitative awards which went on to honor the Best Sportsman, the Best Project Implementation, the Best Idea, Best Innovative Product Solution, and the 'Can Do' Icons of the Bank. The Gold for 'Can Do' Icon was awarded to Farhan Refai of HR while the silver was awarded to Nizath Mustapha of IT.

With a view to encourage excellent service across the Bank, the ceremony also recognized exceptional service moments by awarding the Best 'We Care' Moment. The Gold Award under this category went to Zakir Hisham of Prestige Banking and Silver Award was bestowed to Ms Dilruba Sabry of the Ladies Branch.

The crowning moment of the ceremony was the CEO Award, given to the most outstanding employees of the Bank for their unwavering display of dedication and passion going beyond the call of duty. The inaugural recipients of the CEO Award were Ramakrishnan Kirubakaran of Retail Credit, Rajendra Jayasinghe of Business Banking and Arshad Jamaldeen of Retail Banking.

The ceremony also recognized the current employees who were there since the inception of the Bank in 2011 with Founder Member Mementos.

Speaking on the event Amãna Bank's Chief Executive Officer Mohamed Azmeer said, "It is indeed a great day in Amãna Bank's short history, where this ceremony is all about being grateful to our people, the people of Amãna Bank. Our Success in Enabling Growth & Enriching Lives is thanks to the hard work & commitment of our 650 plus employees, and I am truly honoured to lead this wonderful team towards greater achievements."