---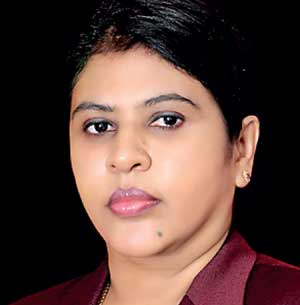 The drums rolled for AIA Wealth Planner D.G.A. Swarna from Anuradhapura Region who became the first female insurance sales professional in Sri Lanka to achieve Honour Roll at Million Dollar Round Table (MDRT).

This prestigious global recognition for a life insurance sales person is an achievement awarded for 15 years of MDRT membership. The MDRT Honour Roll is among an array of accomplishments Swarna has achieved in her career in life insurance sales. She has attained the commendable position of 'Top of the table' at the Million Dollar Round Table conference in 2010, 2012, 2013 and 2014. She was 'Court of the Table' consecutively for six years from 2010 to 2015 and became the MDRT Country Chairman on 4 occasions.

Swarna has also qualified for the globally recognized International Quality Award (IQA) from LIMRA, USA. IQA was established to promote quality selling in the Life insurance profession across the world. To qualify for the award, insurance sales persons are required to achieve outstanding persistency that demonstrates customer loyalty and satisfaction.

Swarna has received significant recognition at AIA Sri Lanka. She won the Best Wealth Planner award at the life insurer's annual Sales Conference for six consecutive years from 2008 to 2013. She was also among the Company's top ten Wealth Planners to be hosted by the AIA Group CEO at the President Club Dinner in London last year. She is the first Sri Lankan woman to attain life membership at MDRT.

Founded in 1927, MDRT is the Premier Association of Financial Professionals, a global, independent association of more than 42,000 of the world's leading insurance and financial services professionals from more than 470 companies in 71 countries. MDRT members demonstrate exceptional professional knowledge, strict ethical conduct and outstanding client service. MDRT membership is recognized internationally as the highest standard of excellence in the world that a life insurance sales person can achieve.

Congratulating Swarna, AIA Sri Lanka's CEO, Shah Rouf said "The MDRT Honour Roll is indeed an achievement that illustrates Swarna's calibre. She is able to win the trust and confidence of her customers with her dedicated service and ensure their peace of mind. Her achievement as a Sri Lankan lady is an achievement for the country as well as for AIA."
Last year, AIA's illustrious Wealth Planner Ajith Fernando achieved Honour Roll, becoming the first Sri Lankan to receive this accolade.