---
By Nayanajeewa Bandara
The statement purported to have been made by Puttalam District MP Palitha Range Bandara in parliament, that I received a gift parcel containing a pair of brassieres from Shashindra Rajapaksa the chief ministerial candidate for Uva is a lie," said the Venerable Moderawane Sudamma Thera,
the chief prelate of the Thellulla Bodhirajaramaya in Ethiliwewa, Wellawaya.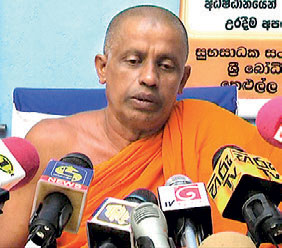 The thera said so at a media briefing at his temple. He said it was improper to make such statements under cover of parliamentary privilege, as it denied one the right of reply. He said the MP's statement had caused him much pain of mind. He said that by making a false statement in parliament, which is considered a supreme and noble institution, the MP had degraded it.
"I vehemently state that I never received a gift parcel from former chief minister Shashindra Rajapaksa, and I have never met Mr. Range Bandara. I am well aware that politicians are engaged always in mud slinging, and I pity their attempts to come to power with this type of insult hurled at others," he said.
The thera said that if the MP had made this statement outside parliament, he would definitely have resorted to legal action against him.