---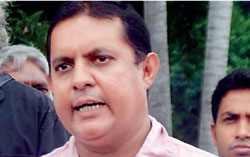 By Kelum Bandara
The Government's alliance partners are reportedly piqued at not being consulted on the plans to hold a snap national election early next year, sources said yesterday.
The Socialist Alliance, comprising three leftist parties has already communicated its stand to the Government and stressed that there was no need for a snap presidential election at this point of time.
However, the Sri Lanka Freedom Party (SLFP), the largest constituent of the government headed by President Mahinda Rajapaksa has initiated political activities in view of such an election. The President even told SLFP Central Committee members to be prepared for a snap election early next year.
The three socialist parties – the Communist Party, Lanka Sama Samaja Party and the Democratic Left Alliance - said there were two more years for the President to conclude his current term and that period should be used to address socio-economic and cultural needs of the people rather than holding a snap election. The Jathika Hela Urumaya (JHU), another Government ally also said it was never consulted on plans for a snap election. It said it would engage with the government and other parties on this matter. The Mahajana Eksath Peramuna (MEP) led by Minister Dinesh Gunawardane has also initiated a similar series of talks.