---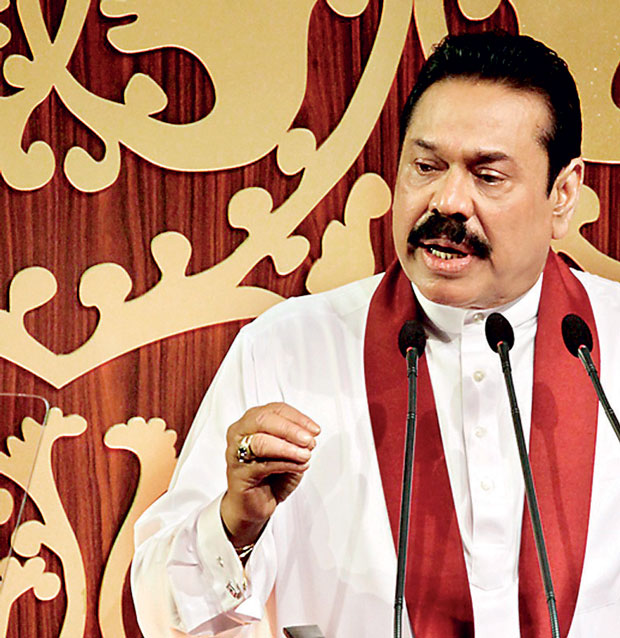 By Subramaniyam Baskaran
If those clamouring for Tamil Eelam gave it up he would give up the Executive Presidency, President Mahinda Rajapaksa yesterday said in Kilinochchi. Addressing at an event held at Kilinochchi Central College grounds on Sunday (12) to distribute land title deeds to many rightful owners he stated that certain groups and associations were clamouring for Tamil Eelam and the Tamil National Alliance had extended its unstinting cooperation to the demand.
"I would be the first person to shelve the Executive Presidency if the demand for Eelam was given up," he said. He said that the Leader of the Opposition had also held talks with the sections of the Tamil Diaspora, who were after a separate state. Mr Rajapaksa recalled that political parties in the North and South were calling to change the Presidential system of governance and said he was certainly prepared to heed to their demand. "We did not wage war against the Tamil community. We fought against the terrorists and to make them surrender their weapons. It is an accepted fact that the people lost their belongings and those near and dear to them." President said that the government had rehabilitated 12,000 men and women who took to arms against the government and absorbed them back to society. Rs 33,000 million had been spent for their wellbeing. He stated that the government held elections in the North though he knew very well that his party would be defeated in the Northern Provincial Election and the general public elected representatives of their choice. "The Northern Province Chief Minister and his Cabinet of Ministers should provide the required service to the general public.
"I decided to divert a river from the South and connect it to Iranaimadhu tank in the North to provide drinking water to the people in Jaffna. Funds towards this project too had been allocated but it has not been implemented as yet," the President stated. He said that the government was in the process of enlisting Tamil youth both men and women to the Police and Army.
Title deeds to 18,958 persons were issued while jewellery pawned by 2,350 persons with Banks run by the LTTE were handed over to the owners by the President at the function.