---
Very likely to cross SL, bringing rains exceeding 200mm

By Yohan Perera
The deep depression developed over the Bay of Bengal is expected to intensify further into a cyclonic storm and very likely to cross Sri Lanka, bringing rains exceeding 200mm, Department of Meteorology said yesterday.
The Met. Department has issued a red alert for the Northern, North Central, Eastern, North Western, Central and Sabaragamuwa Provinces. Very strong gusty winds of about 80-100 kilometres per hour are expected in these provinces today and tomorrow, according to the department.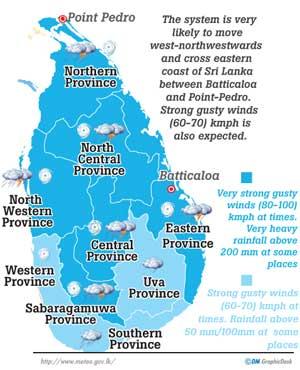 The depression area in the south-east Bay of Bengal has concentrated into a deep depression and lay centered 500 km southeast to Trincomalee at 1130 hrs yesterday (01st December). The system is very likely to intensify into a cyclonic storm during the next 24 hours.

The system is very likely to move west, northwestwards and cross the eastern coast of Sri Lanka between Batticaloa and Point-Pedro today. Strong gusty winds of 60-70 kmph is also expected.
The system is likely to move west, northwestwards and cross the eastern coast of SL between Batticaloa and Point-Pedro