---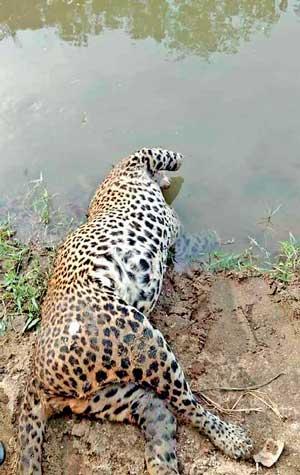 By Chaturanga Samarawickrama
A young male leopard, with its limbs and several teeth missing, was found dead close to the 14th-milepost outside the Udawalawe National Park on January 1, Udawalawe National Park Warden R.G.R.S. Ranathunga said.
He said the leopard was a well-grown specimen, 157 cm long. It was found at the end of the canal connecting to the Mau-Ara Tank. Wildlife officer had later removed the body for investigations.

"We suspect foul play as the cause of the death of the leopard," Mr Ranatunga said adding that several deaths of leopards was reported some two years ago. He said the body was handed over to the Veterinary Department of Udawalawe Ath Athuru Sevana (Elephant Transit Home) to conduct a postmortem examination.

According to a survey less than ten leopards were found at this National Park. Wildlife Conservation Department spokesperson Hasini Sarachchandra said there were more than 1,000 leopards found in national parks and surveys are ongoing.
The leopard was a well-grown specimen, 157 cm long. It was found at the end of the canal connecting to the Mau-Ara Tank. Wildlife officer had later removed the body for investigations