---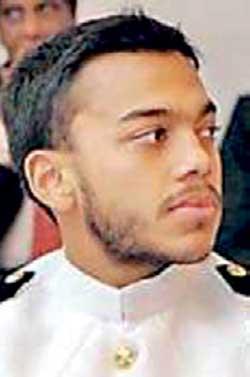 By Darshana Sanjeewa Balasuriya
Navy Commander Vice Admiral Piyal de Silva on Tuesday signed President Maithripala Sirisena's order re-instating former President Mahinda Rajapaksa's second son Yoshitha as a Lieutenant in the Sri Lanka Navy.
He was re-instated in the Navy with effect from February 28, 2016, Navy Spokesman Lt. Commander Isuru Sooriyabandara said.

Yoshitha was suspended from the Navy on February 28, 2016 on the direction of the Defence Ministry following a request by the Financial Crimes Investigation Division (FCID). Following the suspension, his salary and allowances were halted and he was not permitted to enter any Naval premises without the approval of the Naval Head Quarters. On January 30, 2016, Yoshitha Rajapaksa and several senior executives of the Carlton Sports Network Channel were remanded by the Kaduwela Magistrate on charges of financial crimes including alleged money laundering charges. He was later released on bail on March 14, 2016.