---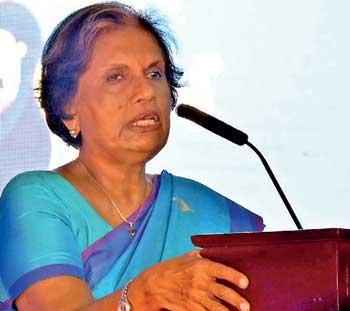 By Sandun A. Jayasekera
Former president Chandrika Kumaratunga said yesterday she would give an 'Ear-splitting Slap' to anyone who asks whether she would join the UNP.
"I have many a time said that I would never join the UNP nor any other political party. In the recent past there were attempts by interested parties and individuals to push me into the UNP on the pretext of discrimination meted out to me within the party. This is the party in which I started politics and conclude my political journey with the SLFP when I retire," she said at a ceremony organized by the SLFP's women's wing to mark the World Women's Day last morning (8) under the theme 'A Country Free of Drugs and Alcohol – A happy Nest' at the Viharamahadevi Park in Colombo.

She further said the SLFP has the ability and skills to come to power with a sound management of the party, by strengthening party organizations at the grass roots level.
"Why should we leave the SLFP to join any other party, just because they say they follow Bandaranaike policies. Do we need to murder people, embezzle public money and engage in corruption once again? In the last four months, there were attempts to remove me from the party, but I would not leave the SLFP until my death," she said.
When it was extremely difficult to remain in the SLFP, she said they formed the Mahajana Paksaya, but never joined the UNP or any other party. There were threats to kidnap our daughter, she said.

"After things had settled, we strengthened the party and brought the SLFP back to power in 1994 after17 years in the opposition," Mrs. Kumaratunga said.

She said the SLFP was the most powerful and popular party that produced the first Prime Minister and the third female executive President of the world.

In 2015, the political situation in the country was not favourable for the SLFP, which is why the SLFP formed an alliance with the UNP to bring President Maithripala Sirisena to power and later to form the Yahapalana Government with SLFP members getting cabinet portfolios.

"We must not seek political power to engage in corruption and our prime duty should be to protect Bandaranaike policies and we must not join any other party," she said.