---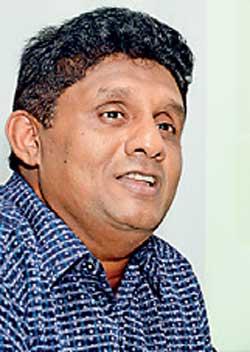 By Yohan Perera
Leader of Opposition Sajith Premadasa said over the weekend that he will not sideline anyone in the UNP if he is given the leadership of the party.
Speaking at a public meeting in Elpitiya Galle, Mr Premadasa said he will preserve unity within the UNP if he is appointed as its Leader and will work with everyone.
"Certain people in the UNP seem to think that I will sideline some party members if I am given the leadership. However, I am willing to work with everyone in the party.
Therefore, I would like to tell those who are concerned to handover the party to me without any hesitation," Mr Premadasa said.

"There was a time when certain party members were sidelined and I assure that it does not happen again," he added.

He said he had decided to handover the cushioned chair given to Leader of Opposition to former Prime Minister Ranil Wickremesinghe. "I have decided to allow Mr Wickremesinghe to use the opposition Leader's chair as we should respect our seniors," he said in this regard.

Mr Premadasa said he had already decided to appoint three deputies to Chief Opposition Whip Gayantha Karunatileka which included Ajith P. Perera, Ranjith Aluvihare and J. C. Alawathuwala. "I decided on Mr Aluvihare as he nominated me for the candidacy at the presidential election. He did it and got into trouble. Mr Karunatileka also supported me but saw to it that he does not get into trouble. Therefore I should learn a lesson from him," Mr Premadasa also said.

The Leader of Opposition said he will turn his office into an office of an ombudsman which will listen to the plight of party members. He said he would also set up a special unit which will comprise of lawyers who would provide legal aid to party members free of charge. Mr Karunatileka said the main task of those in the party is to get Mr Premadasa elected as the next head of state. He said he will also work towards achieving this goal. "Mr Premadasa's father late President Premadasa is the one who appointed me as a head of a state institution and helped me in my political career. Therefore, I feel honoured to work with his son today," he said.
There was a time when certain party members were sidelined and I assure that it does not happen again