---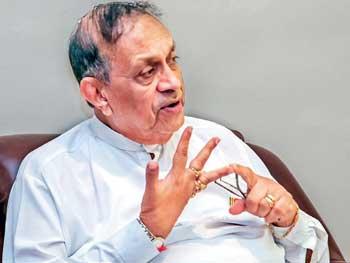 By Yohan Perera

Former Speaker and Constitutional Council Chairman Karu Jayasuriya had said he does not want to push the country into another crisis by re-convening Parliament.
A statement from the Parliament Media Unit said Mr. Jayasuriya had made this remark during the Constitutional Council meeting held at his official residence.

" I don't intend to create another crisis by re-convening Parliament. I leave the Supreme Courts to deal with the matter and come up with an interpretation with regard to the matter' he had told the Constitutional Council.
He also stressed that all political parties should play a role in combating COVID-19 crisis.

Meanwhile Prime Minister Mahinda Rajapaksa had briefed the Constitutional Council members on the steps taken by the government to combat COVID-19 and on the steps which has been taken to bring back normalcy. Also he had come out with the steps taken by the government to resolve the issues faced by the government and also on the steps that are being taken to bring back Sri Lankan students studying abroad.

Some of the Constitutional Council members have been of the opinion that the Executive should work with the political parties representing Parliament when dealing with a national crisis.
I leave the SC to deal with the matter and come up with an interpretation with regard to the matter