---
By Sandun A Jayaseketa
The government's slavish obedience to the West has created many problems to Sri Lanka as a nation and the attempt to re-introduce an alternative resolution with co-sponsorship of UK to the UNHRC and to bring a new Act replacing the PTA are clear signs of that subservient attitude, General Secretary of the SLFP, Dayasiri Jayasekara charged.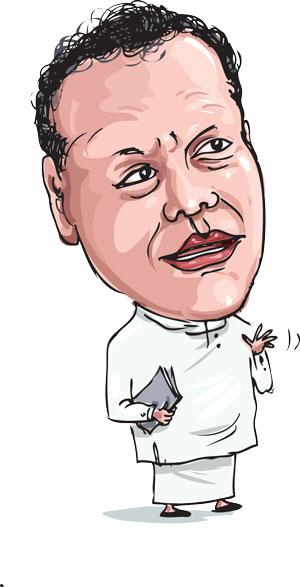 Mr. Jayasekara added that if the government was successful in co-sponsoring another resolution in place of the 30/1 resolution endorsed in 2015 in the UNHRC sessions in Geneva would be more detrimental to Sri Lanka's interests as it agrees to appoint a hybrid court with foreign judges to probe alleged violation of the International Humanitarian Law (IHL) by armed forces personnel at the tail end of the Humanitarian Operation.

Addressing the weekly news briefing at the SLFP office yesterday, Mr Jayasekara questioned as to why Sri Lanka should probe damages cause only to the North or Tamils while all other communities suffered similarly from the conflict.

"Why we should probe the deaths and damages of only Tamils. What about thousands of Sinhalese, Muslims and other communities who suffered from the atrocities committed by the LTTE." Mr. Jayasekara stressed.

He pointed out that Sri Lanka has a robust, highly independent judiciary with bold and upright judges and therefore, engaging in foreign judges in Sri Lanka's administration of justice does not arise.

Commenting on the government's move to introduce a new Act replacing the Prevention of Terrorism Act (PTA) Mr. Jayasekara said if the act was passed in Parliament it will be the death of free media, trade union actions and fundamental rights of all Sri Lankans. "The new Act simply prohibits TU actions like display of placards, posters, leaflets, strike, work stoppages, street protests and all sorts of media activities, the government does not like. The Act provides for all kinds of FR and HR violations by the government and law enforcement authorities as they like. In short, the new Act gives the political party in power to suppress the media and trade unions and also keep suspects up for several years without bail of prosecution," Mr. Jayasekara stressed. A dialogue ensued at this stage between journalists and Mtr. Jayasekara.

Dailymirror::
You have come under severe criticism from the SLPP for trying to protect and promote your leader, President Maithripala Sirisena.
Mr. Jayasekara:
As the General Secretary of the SLFP, I believe my first and foremost job is to promote my party and my leader. I think the General Secretaries of the UNP and SLPP are doing the same. Therefore, I don't think anything wrong in the act.

Dailymirror:
But they charged that you made remarks detrimental to the popularity of opposition leader and de-facto SLPP leader Mahinda Rajapaksa.
Mr. Jayasekara:
I am sorry for them because they have taken the wrong end of the stick. I have never insulted or said anything against my former leader Mahinda Rajapaksa. I have great respect for him and my sole desire is to form a grand alliance under two leaders, Sirisena and Mahinda.

Dailymirror:
But the members of the joint opposition blame you for openly saying that President Sirisena is your Presidential candidate.
Mr. Jayasekara:
What are they doing?. They are also saying that their candidate will be Gotabhaya Rajapaksa or anyone else nominated by Mahinda. Do they say those things to strengnthen the unity between the SLFP and the SLPP. It is ok when they say something but not when we say something similar. That is why I say always that if we are to win the SLFP and the SLPP must unite and form a strong alliance to face the UNP.

Dailymirror:
The SLPP members charged that you attempted to belittle Mahinda.
Mr. Jayasekara
Never! Why can't see my comparison in a positive way. The 40 day campaign carried out prior to 2015 Presidential Poll on behalf of President Sirisena and 51 day government happened under totally different scenarios. Both are great event in contemporary history of Sri Lanka. My assessment is that what happened in 2015 will stand as shining moments of the life of President Sirisena and in Mahinda's life becoming Prime Minister on October 26, last year. But these two phenomenons cannot be compared and not equal. But both are great moments of history. I never ever intended to make aspersions on Mr. Rajapaksa by mentioning the two incidents. Don't get confused the outcome of 45 day poll campaign and 51 day government.

Dailymirror:
Do you agree with certain remarks made by SLPP leaders?
Mr. Jayasekara:
Not at all. I am very clear on this issue. We are cannot win a Presidential poll divided. If we are to win, then two leaders must come together to lead the election campaign. It is quite foolish and premature to name a presidential candidate by the SLPP now.

A journalist:
The SLPP members accuse you that you talk rubbish.
Mr. Jayasekara:
I don't talk rubbish at any forum. I know what I am talking about and I know what I should not.

Journalist:
What about their allegations?
Mr. Jayasekara:
You go and ask them. I told you that I have never ever talked in an indecent manner to anyone. I know what my upbringing is. I repeat that victory comes only through unity.