---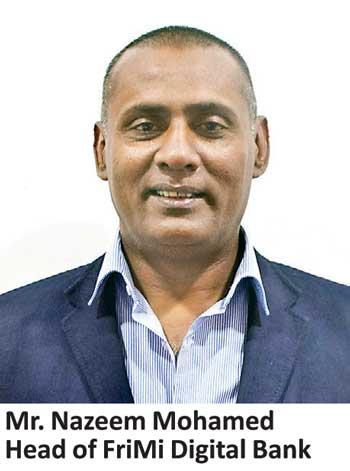 BY RANDHEER MALLAWAARACHCHI
Man has undergone various stages. Starting off as a self-sufficient species, each era experienced the introduction and decline of various structures and systems. From the Barter system, to the era of Gold-standard, and up until the age of the bank, paradigm shifts were a regular occurrence with each passing generation. Everyone was in awe once credit/debit cards were introduced. The intrigue escalated after the surge for Bit-coins.It is worthwhile to keep track of these trends, as it is a haven for innovation which could very well earn an entrepreneur a niche market. Nations Trust Bank has always been a few steps ahead of its competition. Proactive strategies implemented through the accurate interpretations of market conditions have granted the bank the flexibility to launch innovative products which creates a buzz in all forms of social media. Virtual Banking is the latest hip concept which has caught the gaze of NTB Bank. Predictably, NTB Bank launched FriMi, which is widely accepted as the pioneer who ushered the epoch of the branch-less virtual banking concept to Sri Lanka.
In span of two years, the first digital bank in Sri Lanka has completely changed the way banking and payments can be done. FriMi functions as a fully-fledged digital bank, mobile wallet and payment system wrapped into one solution. FriMi was created to provide the digitally savvy Sri Lankan consumer with a state of the art financial solution which brings unparalleled conveniences in managing their day to day financial activities. Head of FriMi Digital Bank Nazeem Mohamed shared a brief snapshot of what users can expect, if they wish to embrace the FriMi life.
MENTION A FEW WORDS ON THE MOTIVE BEHIND THE FRIMI CONCEPT?
"FriMi started in 2016 as an innovative digital initiative of the corporate management team of the Nations Trust Bank. We attempted to look into the future, to better understand the profile of our future customer and their lifestyle, behavior and needs. Hence FriMi came into existence, as an attempt to give customers an end to end digital experience from opening their primary banking account to handling all their day to day financial transactions, payments and managing their money, all through their mobile phones."
WHAT ARE THE METHODS AVAILABLE FOR MONEY TRANSFERS AND PAYMENTS?
"There are a variety of diverse ways users can send money. FriMi opens up a portal which permits the instant transfer of funds from one person to another user via mobile number without any implicit costs. Additionally it permits inter-bank fund transfers. It also provides the luxury to request for money from close associates if the situation dictates the necessity. FriMi has introduced a cash token system which give users authority to send money to a person's mobile number; regardless of the fact whether the person is with or without possession of a FriMi account. The sent amount can be withdrawn once the code received via SMS is entered at any Nations Trust ATM. An array of payment methods are made possible through FriMi. QR technology it is utilized to the ultimate potential. Scan a FriMi merchant QR or a QR Code of any friend of yours on FriMi and make a secure payment. Making payments using the mobile number which is registered with FriMi is another convenient method used in Super markets and large retailers. The payable amount will ultimately be deducted from the account. Remote payment facilities make it simple for all stakeholders. Payment request can be accepted from any location, thus eliminating the necessity for the customer's physical presence. The debit card that is offered is significant. It is the first ever virtual debit card in today's virtual world. In addition, it is the pioneer behind the inaugural vertical debit card. Attention to detail is such that FriMi wishes to differentiate its design elements in order to gain a signature look."
WHAT INCENTIVES ARE GIVEN FOR LOCAL CUSTOMERS?
"FriMi aspires to remain actively engaged with its clientele. Customer satisfaction, and loyalty is the backbone for the success which was achieved for the past 2 years. It is evident that regular promos and offers are extended to gratify the user's faith and loyalty. These offers are not limited to a single facet. This is in order to give an overall inclusive experience for users, since it is felt that offering benefits in the same category is monotonous and ineffective. Exclusive sign-up offers are given to reward the entry into the FriMi family. These offers are focused widely accepted and revered brands like PickMe, Takas, Burger King, Keels, Cool Planet along with a cash-back on bill payments up to a set amount. It is to be noted that these brands are closely associated with a bulk of the younger generation. FriMi strictly targets the youth, and such promotions is sure to pique their interests. Fine-dining and fashion has a great demand in the current society. Taking that into consideration, FriMi has taken initiatives to base offers on a wide selection of restaurants and garment stores.The refer and earn competition paves a platform for existing users to earn massive cash rewards. These cool features can be used to actively engage with the available events along with your friends. A handful of these features include sending money via mobile number, splitting any bill amongst friends in a matter of seconds and even request money during a sudden emergency. This is the sole purpose behind the initiative to get the user's close associates 'on board'. A person should invite a Non-FriMi user to install the app, open an account and become an official member of the FriMi legacy. Once it is recognized that the person is registered, the person who extended the invitation has the possibility to earn up to Rs.10,000 worth of top ups."
GRAND ACHIEVEMENTS DURING THE YEARS...
"A collection of milestones have been passed while surpassing expected benchmarks ever since the launch in 2017. The latest achievement was registered for proficient performances showcased this year. Global Banking and Finance Review graced FriMi with the title 'Best New Fin-Tech Bank of Sri Lanka for 2019. The award immortalizes the leadership, excellence and innovation in FinTech banking. In addition, FriMi has been coronated as the 'Bank of the year for excellence in customer convenience' by Lanka Pay Technovation 2018. It was recognized as the 'Digital Banking Solution' for 2018 during the Infotel Awards. FriMi was recently ranked amongst the top 30 of the Best Digital Financial Service Providers in the Asia Pacific, Middle East and Africa under the category of 'The Best Digital Bank and Financial Institutions' for 2018 by The Asian Banker. In 2019, FriMi was named as one of the top 20 E-Commerce brands of Sri Lanka as showcased by the LMD Brands Annual report for 2019, compiled by Brands Finance Lanka. Analyzing these achievements, it is evident that FriMi has earned atleast a single award in each consecutive year since inception."
HOW WOULD YOU RATE THE LEVEL OF CUSTOMER RELATIONS?
"It is evident that social media is ablaze with activity. Every platform is rich with individuals sharing insight and sharing experiences. The average customer feedback tends to be tilted towards the positive side. The majority of the customers are enthralled by the latest digital and virtual experience. Social media reach is such that users react to the shared content almost instantly. This enthusiasm has led to the organic growth in the content that is shared. It is unwise to state that it is all fruity and bubbly. FriMi has received its fair share of complaints throughout the years. However, what makes the difference is the manner in which the staff react to the complaints. A calm and professional composure is maintained whilst handling each customer. Social media interactions are taken with extreme solemnity. Each complaint has been taken into consideration, and attempts have been made to ensure such inconveniences are avoided in the future. All these complaints have been taken with intense humility, and each situation has been negotiated pleasantly with the expected decency. It is safe to state that the manner in which a brand manages complaints is just as important as the glory that is received by the positive feedback. In that regards, FriMi is significantly progressive."
A MESSAGE FOR THE SOCIETY?
"The world is changing, and we have to accept that. It is evident that everyone is gradually growing restless with the current prevailing banking systems. That is not to say that banks are irrelevant. On the contrary, it is as important as ever. What I wish to emphasize is, that there is always another way. Virtual banking is the future, and it is a matter of time till others attempt to exploit the concept. As the pioneer, FriMi shall forever hold the honor of the first mover, and it is evident that the loyal customer base which we have earned throughout the years would chose us over the rest, and it is beyond doubt that they will attest that embracing the FriMi life was one of the best decisions that they have ever made."