---
Our Power of People Party obtained 67,758 votes at the General Election and secured a National List seat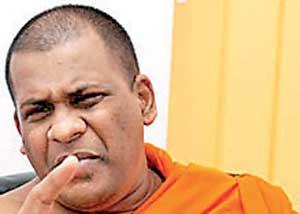 By Chaturanga Samarawickrama
Our Power of People Party has nominated Ven. Galagoda Aththe Gnanasara Thera as the National list member of Parliament.
Party media secretary Eranda Navaratne said yesterday that approval of the Central Committee of the party was received to appoint Gnanasara Thera.
Accordingly, the party chairman and secretary will inform the Election Commission about the decision.

While rejecting the earlier media reports Mr Navaratne said, no discussions were held earlier by the party's central committee over the selection of a person to be appointed for the post.
Our Power of People Party obtained 67,758 votes at the General Election and secured a National List seat.