---
The commotion began when the Speaker announced that the Opposition Leader's comment will be expunged from the Hansard
MP Gajendrakumar Ponnabalam who joined in the cross talk said MPs can voice their opinion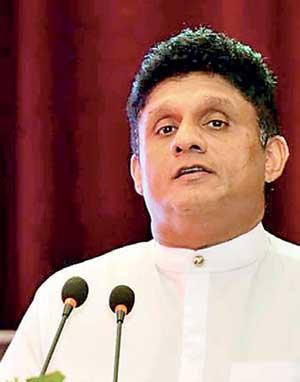 By Yohan Perera and Ajith Siriwardana
Opposition Leader Sajith Premadasa was engaged in a showdown with Speaker Mahinda Yapa Abeywardene in Parliament leading to an uproar.
The commotion began when the Speaker announced that the comment made by Mr. Premadasa that Sri Lanka is a failed state will be expunged from the Hansard.

"Please permit me to expunge this sentence as it would have a negative effect on Sri Lanka," the Speaker said.
"I never said Sri Lanka is a failed state. I only said the Government is a failure. I know my English. Please respect my linguistic skills," Mr. Premadasa shot back. Tamil National People's Front MP Gajendrakumar Ponnabalam who joined in the cross talk said MPs can voice their opinion. "If an MP says Sri Lanka is a failed state, it is his opinion. Therefore there is no way one could expunge an opinion expressed by an MP," he said.
The Speaker then said he will check the Hansard reports and make a final decision.
The Speaker said he will check the Hansard reports and make a final decision