---
US$ 480 mn MCC grant agreement would be signed before the presidential election
We have created an Independent judiciary, rule of law, media freedom and Right to Information
We could have had even better surplus in 2019 if not for Easter Sunday attacks. We will be able to do it next year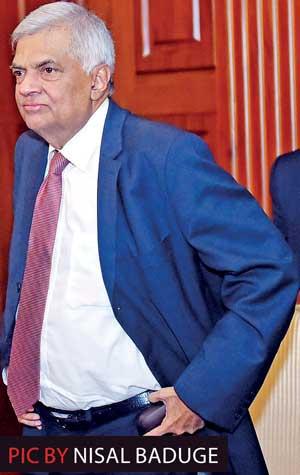 By Ajith Siriwardana
Prime Minister Ranil Wickremesinghe said yesterday that he would continue to function as the Prime Minister under the presidency of Sajith Premadasa.
The Premier expressed these views at a media briefing held at Temple Trees to brief on the development projects launched by the government during the last five years.
Responding to a question whether the changes in the economy would be done under his premiership from next year, Mr. Wickremesinghe said "Yes, as the Prime Minister. Sajith Premadasa will be the President."

He said the agreement on the implementation of a US$ 480 million MCC grant would be signed before the presidential election. He asked why should it be rejected when government was receiving US$ 480 million under the grant?

He said they took over an economy which could not repay the loans and added that they were able to stabilise the economy where there was a surplus in the primary account in 2018. "We could have had even better surplus in 2019 if not for Easter Sunday attack. We will be able to do it next year. We have created an Independent judiciary, rule of law, media freedom and Right to Information," he said.
Why should it be rejected when the government was receiving US$ 480 million under the grant?

When asked why the development projects like Gamperaliya and Enterprise Sri Lanka were launched after the Local Government Election, he said even though the projects had not been named as such, money had been allocated for the project from the 2015 budget.

"We had allocated Rs. One million for each Grama Niladari divisions in 2015 and it took two years to complete. Another Rs.500,000 was allocated later on. The projects were named as 'Gamperaliya' and 'Enterprise Sri Lanka' recently," he added.
US$ 480 mn MCC grant agreement would be signed before the presidential election
We have created an Independent judiciary, rule of law, media freedom and Right to Information
We could have had even better surplus in 2019 if not for Easter Sunday attacks. We will be able to do it next year