---
U.S. assistance was sought for the apparel sector, noting that some major apparel companies are now manufacturing personal protective equipment (PPE) to meet the global demand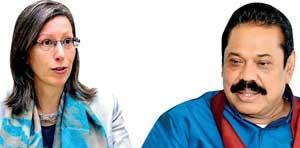 The U.S. Ambassador to Sri Lanka, Alaina Teplitz called on Prime Minister Mahinda Rajapaksa yesterday morning, to discuss a host of issues, including the fight against the coronavirus pandemic, post COVID-19 economic challenges and ongoing collaboration.
With regard to the economy of Sri Lanka, U.S. assistance was requested for Sri Lanka's apparel sector, noting that some major apparel sector companies are now manufacturing personal protective equipment (PPE) to meet the global demand and a follow-up on this request to be agreed.

The Ambassador said the United States would like to see Sri Lanka's multinational companies along with the SMEs successfully overcome this crisis.The upcoming elections of both countries and pending projects that will be put forth once the COVID-19 pandemic is under control were also discussed.