---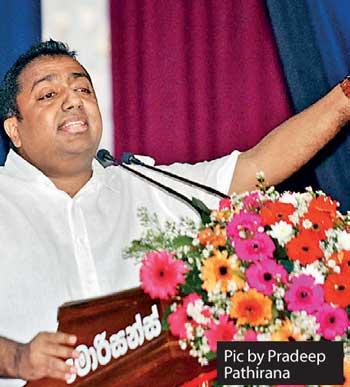 By Yohan Perera
In the midst of a campaign going within the UNP to name its Deputy Leader Sajith Premadasa as the party's candidate for the forthcoming presidential election, its General Secretary Akila Viraj Kariyawasam yesterday said the party should safeguard its Leader Ranil Wickremesinghe whom he said had achieved much during the recent times.
Minister Kariyawasam made this remark at a ceremony held in Kurunegala to distribute compensation to peasants whose crops were destroyed during the recent drought.

" People such as myself had come a long way and had become a Minister because of our present leader. Government has been able to fulfil many tasks because of Leader Ranil Wickremesinghe. I have managed to provide so many buildings to schools under the 'Langama Pasala Hondama Pasala' programme. We have been able to open the first digital national schools. Also, we have been able to provide compensation to peasants whose crops were destroyed due to recent drought. Therefore, we have to safeguard this visionary leader," Mr. Kariyawasam said.
People such as myself had come a long way and had become a Minister because of our present leader. Government has been able to fulfil many tasks because of Leader Ranil Wickremesinghe