---
Our leader's speech will be telecast in all 161 pocket rallies which will be held in each district simultaneously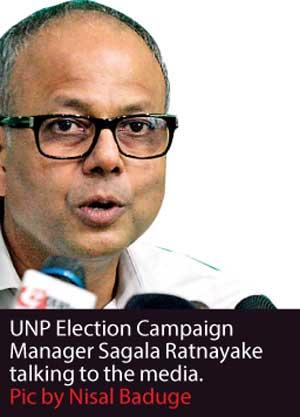 By Yohan Perera
United National Party (UNP) Leader Ranil Wickremesinghe will address 161 pocket simultaneously using digital technology on Sunday (28), UNP's Election Campaign Manager Sagala Ratnayake said yesterday.
Mr. Ratnayake told journalists that Mr. Wickremesinghe will kick off UNP's campaign for the general elections with a rally at party headquarters Sirikotha on Sunday.
"Our leader's speech will be telecast in all 161 pocket rallies which will be held in each district simultaneously," he said.

"The UNP will carry out its campaign with a digital revolution as the first political party using social media for election campaign," he added.

He said the party will use zoom in, Instagram, Facebook and You Tube for its election campaign and would abide with health regulations imposed by the election commission.

"We believe that we could reach people online at a time when even education for school children is conducted online by some schools. We have learnt that children from several houses get together in one house where a computer is available to participate in online classes. Therefore, we believe that technology had gone into a large number households," he said.