---
The majority of UNP supporters have expressed that the appointment of a new UNP leadership is unavoidable and essential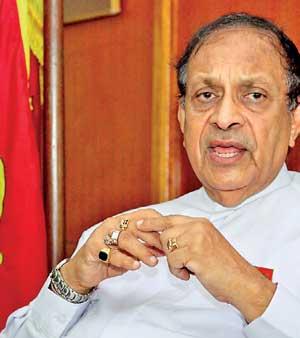 By Yohan Perera
Two UNP affiliated organisations called for former Speaker Karu Jayasuriya to be appointed as the new leader of the party, and they said it would not be advisable to appoint a young leader for it in a crisis situation.
United Professional Group (UPD) President Dr. Mohan Abeyratne told a press conference yesterday that he had made a written request from UNP Leader Ranil Wickremesinghe to appoint Mr. Jayasuriya as the new leader.
"UNP suffered a huge defeat at the parliamentary elections held on August 5, 2020. The party had suffered a number of defeats earlier as well. Although the defeats caused had not been due to the leadership of the party, the vast majority of UNP supporters have expressed their view that the appointment of a new UNP leadership is unavoidable and essential. In the light of the above, the majority of working committee members of UNP recommend to you that Mr. Jayasuriya should be the new leader as we feel he has the necessary qualities to unite the party," Dr. Abeyratne said in his letter addressed to Mr. Wickremesinghe.

UPD was of the opinion that a young leader should not be appointed in a hurry as the party is in a crisis situation at the moment.

Meanwhile the Young Professional Organisation of United National Party (YPOUNP) also wanted Mr. Jayasuriya as the leader. This request was made by YPOUNP vice President Nuwan Nanayakkara yesterday.