---
They were asked to stop but did not do so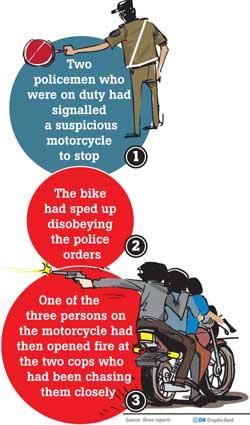 By Chaturanga Samarawickrama and Krishan Jeewaka Jayaruk
Two policemen were injured when they were shot last morning by an unidentified gunman on a motorcycle at Akuressa, Police said.
Preliminary investigations had revealed that the two policemen who were on duty at Thibbatuwawa had signalled a suspicious motorcyclist to stop but attempted to flee when the pillion rider opened fire at the policemen who were following them on their motorcycle.

The policemen were admitted to the Akuressa District Hospital and later transferred to the Matara General Hospital for further treatment.