---
The police that raided MP Ramanayake's residence and took into custody thousands of CDs did not give any of them to a third party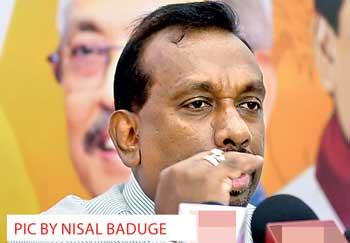 By Sandun A. Jayasekera
Revealing as to how the controversial audio recordings of former State Minister Ranjan Ramanayake leaked into the social media and to the Press that triggered a huge debate in the country, State Minister of Power, Mahindananda Aluthgamage claimed that it was a work of a three-wheeler driver.
He told reporters yesterday that he had information that a young man had stopped a Tuk the other day at the Madiwela Housing Scheme of Parliamentarians and got into it and started a conversation with the driver and had told him that Parliamentarian Ranjan Ramanayake had summoned him to his residence several times but he had never met him. However, before he arrived at his destination, he had received a call from Mr. Ramanayake asking him to come back.

He has asked the Tuk driver to drive him back to Madiwela and got off near Mr. Ramanayake's residence.

"Soon after the driver dropped the man he found another hire. The passenger who got into the Tuk found a pack behind the seat and inquired about it from the driver. When checked they have realized that the pack contained a bundle of CDs. He, after dropping the second passenger at his destination, drove back to Madiwela and gave the bundle of CDs to the youth. But the driver had also kept a few CDs with him. The leaked CDs were those which had been taken by the Tuk driver," Minister Aluthgamage said.

He categorically said that the police who raided Mr. Ramanayake's residence and took into possession thousands of CDs did not give a single CD to any third party and added the TV stations and social media have been the audio recordings contained in the CDs held by the Tuk driver.
The Police have identified the Tuk driver and to record a statement from him shortly, Minister Aluthgamage said.
The driver had also kept a few CDs with him. The leaked CDs were those which had been taken by the Tuk driver